Our dental SEO strategies are based on 6 pillars. Don't accept any less – if your SEO agency isn't doing all 6 of these things, they aren't doing enough.
The 6 pillars are:
We could write for ages about the techniques used in any one of these pillars. We're going to describe each of them in greater detail below, and give specific examples to highlight why they're beneficial for dental practices.
If the explanations below whet your appetite, but don't sate it, give us a call! We'll provide an in depth explanation on the ways we can boost your dental practice with our free SEO audit. 
That'll really give you something to chew on. And if you're still hungry for knowledge after that, check out our comprehensive local SEO guide. 
Keyword research for dental clinics
No two dental clinics are exactly alike. That's why all of our search engine optimization strategies are custom-made for the clinics we serve.
And it all starts with keyword research. You can think of keyword research as something like market research. We find out what patients in your area are searching for. From there, we figure out which of those searches will be most valuable to you. 
In other words, keyword research is about figuring out (among other things):
Which keywords are getting searched for the most often

Which keywords have the highest conversion rates

Which keywords are the most relevant to your practice
Want to increase veneer sales? Targeting a keyword like "dental veneers your area" might be the best strategy. Do you offer service in languages that most other dentists don't? You can target those languages – in the same way we did in our case study.
When it comes to keyword research, we're not throwing darts blindly and seeing what sticks. We work with a lot of dental clinics, so we have swaths of data on which keywords tend to perform well in different regions.
We'll go further still, using keyword analysis tools to determine what's being searched for most frequently in your area – and what's converting. 
Best of all, we'll reverse engineer what your competitors are ranking for – and go out of our way to beat them for those terms. Just like that, clients that would have gone to the competition come to you instead.
No more pulling teeth to beat the competition!
Technical SEO
There are things your patients never see.
Whether it's the careful planning that goes into the layout of your clinic, or the behind-the-scenes work that goes into making dentures, a lot of what makes your dental clinic tick happens in the background.
Technical SEO is what's happening in the background of your website. It's mostly invisible, but when it's done poorly, user experience suffers.
Our technical SEO revolves around improving code and optimizing site structure to ensure the best user experience. That's going to help keep prospective patients on your website – and encourage them to convert.
What's more, it sends positive signals to Google. They use a bot, called Googlebot, to evaluate every page. When Googlebot is happy, you rank higher.
Our technical SEO efforts will focus on:
Core Web Vitals

Creating a shallow site structure (for ease of navigation)

SSL Certification

Canonicalization and noindexing of duplicate or irrelevant pages (to hide them from search engines)

And more!
If you don't understand any of the terms we just discussed – don't worry. That's why we're here. We'll handle all of the background stuff so you don't have to think about it. 
On-page SEO
On-page dental SEO happens after our keyword research. We want to make sure your existing content ranks well for relevant keywords. 
We do this by using a number of techniques, including:
Ensuring pages title and title tags are both keyword-dense and enticing to click on

The creation of keyword-dense, enticing meta descriptions as an "elevator pitch" for each page

Image optimization, including alt text

Schema to communicate the meaning of important page elements to Google (in an effort to get rich search results, which are higher converting)

Research to find how often certain terms are used on high ranking pages, optimizing existing pages to include more semantically relevant terms
The structure of each of your pages is important, too. By using keyword-dense headings, we can help you rank better for high-quality search results, like Featured Snippets: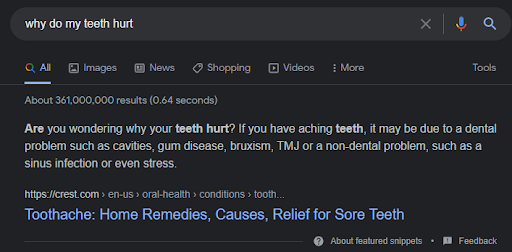 *Featured Snippets, which look like this, appear higher up in the search results. 
We'll also analyze which competitors have pages that are ranking well for particular terms. We'll aim to beat them at their own game, and outrank them for those terms, by using on-page analysis tools. 
Off-page SEO
Google puts a lot of work into identifying how relevant a page is to a particular keyword. They also put work into identifying how good a page's content is. 
But good is subjective, right? And robots – as far as we know – aren't that great at subjective evaluations.
That's why the engineers at Google have borrowed a page from the storied book of academia. The number of links that a page gets – especially from well-respected, high authority sources – is an indicator of its quality.
That's where off-page SEO comes in. It's search engine optimization designed to increase the number of links we get for your content. Dental SEO doesn't get far without it.
Our link building strategy involves:
Reaching out to well-established websites and introducing them to your content

Using competitor analysis to find authoritative websites that are linking to your competitors, and getting them to link to your site instead

And more!
How do we get people who are linking to your competitors to link to your clinic instead? Simple – we create content that blows your competitors' content out of the water.
Google My Business
Back in the day, people relied on local directories to find dental clinics. 
Today, they're more likely to use the most powerful directory in the world – even if they don't realize it.
Google My Business (GMB) is Google's business directory. You'll see it pop up on search engine results pages quite often: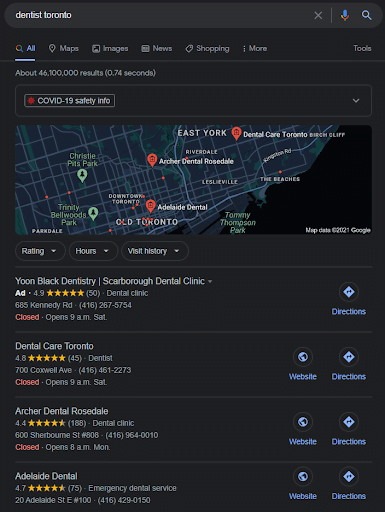 Look at that beautiful search result. You get to see reviews, phone numbers, hours of operation, their website, and directions to their clinic. That's much better than organic search results – those are the text results you normally see. 
Best of all, the 3-Pack Google Map results, like the one above, appear before other search results. 
It's kind of like being rank #0.
GMB is one of the most powerful tools you can use to dominate local markets. If you don't have a GMB profile, call us right away – setting one up can give you a tremendous boost. 
And if you don't monitor your GMB Profile, malicious actors can modify your information, misleading your customers.
We'll go beyond just monitoring your profile – we'll actively update it in an effort to boost how you perform in Google Maps search results. 
Blog management
Last, but certainly not least, is blog and content management.
In order to perform well, you need to be creating content constantly. Blog management helps on-page SEO by boosting the number of semantically relevant pages on your site. It helps off-page SEO by creating excellent content that high authority sites want to link to.
We might create content revolving around teeth whitening, or content based on Invisalign. It all depends on what dental services you offer, what your target audience wants, and what they're actively searching for. 
And, as we've mentioned, we'll also create content tailor-made to beat your competitors at their own game. 
Want your dental practice's website to thrive? You need content that's readable, shareable, fun, and unique. We'll create that content for you.
Call First Rank for Dental SEO
You've seen the case study. You know how we do business. You've learned that local SEO can boost your dental clinic's client acquisition – all while stifling the competition.
And what we've laid out here is just the tip of the iceberg. Gaining positive reviews is essential if you want more patients – we'll help you do that, too. 
Give us a call. We're willing to wager you found this page either on Google, or through a link. That tells you that we know what we're doing. We get links. We rank well. 
We can help you do the same.