SEO for Electricians: Learn The Steps Here.
See the exact 14 steps we took to take our electrician from getting ZERO traffic to their website, to getting an extra 100 calls per month!
In this case study I'm going to break down in simple terms every step we took to take a local electrician website from generating virtually zero traffic from Google to a point where it's getting over 100 inbound calls per month from search engine traffic only.  I encourage you to read through this once completely to understand the entire scope and then you can go through it a second time and follow along with each step to get your electrician website ranking at the top of Google.
Before we start with the steps, I'll briefly outline the methodology.  We break local service SEO down into 4 big categories which are On-Page SEO, Technical SEO, Off Page SEO and Local Listing SEO.  I'll go deeper into each of these categories in individual posts, but for now I'll do a brief overview.  If you already have a comprehensive knowledge of SEO then skip ahead to the electrician case study section where I'll get into the details of the SEO project.
This is what you probably are familiar with as an SEO concept already. It's about communicating the topical relevance of the website and web pages to Google. This is accomplished through optimizing website factors such as titles, headings, number of keywords in content, number of words of content, image file names, alt tags, schema etc.
Technical SEO also takes place on the site but isn't related to topical relevance.  It's more about making sure that the site is easily navigable both for humans and Google's bots.  This includes simple items like the site being mobile responsive, loading fast, being secure and so on, but it also includes more technical items like telling Google which pages are important and which aren't through sitemaps and robots.txt files, and making sure that all code is rendered in a readable way and accessible to Google.
To understand off-page SEO we need to go back and do a little Google history lesson.  So imagine that there are 100 sites all with perfect on page SEO and perfect technical SEO.  How does Google determine which result to display first and which to display last?  This is where off-page signals come in.  The original page-rank algorithm was developed by college students.  They observed that academic papers at the university all had many references or citations to other papers.  They realized that by putting together a database of all references in all papers at the university they could then sort the papers from most frequently cited to least frequently cited and quantifiably identify the "most important paper" at the university.
This was the backbone of Google's first algorithm and set them apart from other search engines at the time.  Instead of references and citations they used links, and every time a website linked to another website that was considered a vote of confidence for that website.
Today, the algorithm is much more advanced, so while links still play an instrumental role in rankings, it's not just a measure of quantity, but quality, authority and relevance as well.
This was the backbone of Google's first algorithm and set them apart from other search engines at the time.  Instead of references and citations they used links, and every time a website linked to another website that was considered a vote of confidence for that website.
Today, the algorithm is much more advanced, so while links still play an instrumental role in rankings, it's not just a measure of quantity, but quality, authority and relevance as well.
This is the fourth area of focus, and only applies to local businesses. This is the profile that allows businesses to show up in Google's maps platform or in the 3-pack of maps results at the top of organic search engine results pages (SERPs). While the algorithm for maps is different than organic, it is still highly focused on authority and relevancy factors, specifically geographical relevancy factors.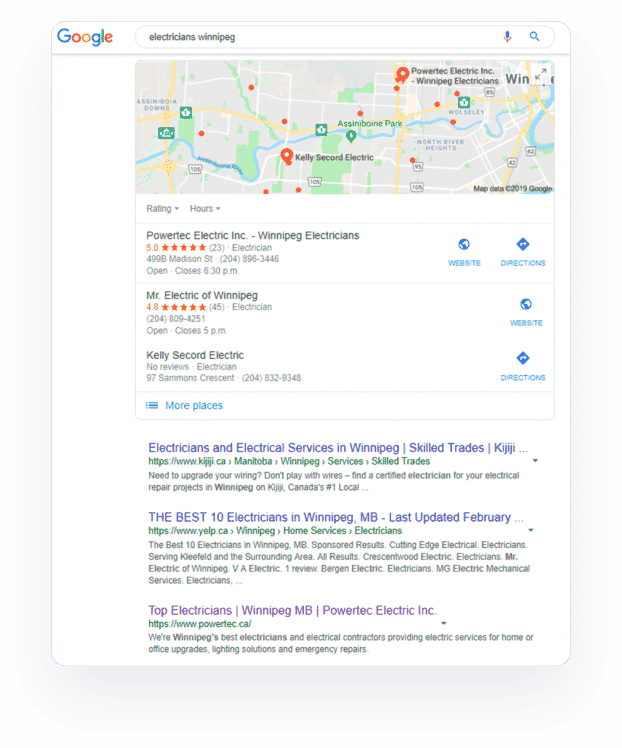 Below are the Google My Business insights for one month. This only reports on traffic from Google Maps and does not include organic traffic or calls: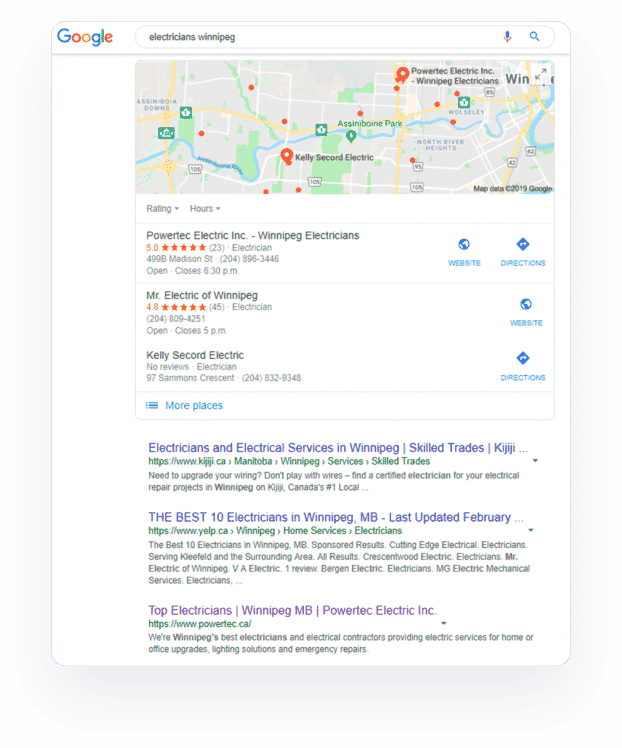 Below are the organic rankings for this website:
Electrician SEO: Case Study
The first thing we did was a page by page site audit to determine which pages we wanted to be ranking in Google and which we did not. The site was on WordPress and had a blog section so while we wanted blog posts to rank we definitely didn't want tag pages, category pages and author pages ranking in Google, and we also didn't want special offer pages, the contact page, privacy policy and terms of service pages ranking.
We added noindex tags to this page which you can easily do through an SEO plugin like Yoast or All in One SEO if the site is on WordPress. If the site is not on a CMS that allows these tags then you will need to manually add the following code to the headers of your website:
On this particular site there were also some pages that had been added as a result of a hack, and as well as removing these we changed the status codes on those pages to 410 (permanently removed) and requested Google to remove these pages from index through the Google Search Console.
In step 2 we ran a Term Frequency – Inverse Document Frequency (TF-IDF) analysis.  While in the early iterations of Google we simply had to include the keyword we were targeting a certain number of times to rank, in the current algorithm Google has a pretty comprehensive understanding of language and understands that for a page to be a valuable resource on a topic it should not only include the main keyword, but also related terms, for example perhaps sites about roofing also need to talk about soffits and fascia, shingles, pitch and warrantees.
TF-IDF is an information retrieval method that puts a high weight on terms that appear frequently in a sub-set of documents, but not in the entire set of documents, so for example while stop words appear frequently in the sub-set they also appear frequently in the entire set so their weighting is reduced.
On the contrary, terms like shingles and pitch appear frequently in the sub-set of roofing sites, but infrequently on most other pages on the internet, so they receive a high TF-IDF score.
You can easily run an analysis on this using Text Tools or Website Auditor which has a free trial version.
Once we ran the analysis we added all of the relevant TF-IDF terms into the content of the pages we were trying to rank.
The next thing we did was a correlation analysis. We use a proprietary software to analyze over 500 different on-page factors over the top 100 ranking pages in Google. We then can determine which factors have a statistically significant weighting in the ranking algorithm for that specific keyword, and optimize them to the levels of the top ranking pages for that specific search. While the software we use isn't available to the public, we can run ad hoc reports for $15 each.
In the fourth step we used strategic internal linking to tell Google which pages were most important and what they were about.  As we discussed in the overview, Google's bots follow links from site to site to determine which sites have the most relevance and authority.
Google also follows internal links from pages on a site to other pages on that site, and similar to with links from other sites, pages with more internal links get a higher score with Google than pages with fewer internal links.
Now that on page is well optimized and relevant it's time to go deeper into technical SEO. We verified that the site was mobile friendly which you can do by running it through Google's Mobile Friendly Testing Tool. We established that the site was mobile friendly already. It did not however have an SSL certificate. While you can get free SSL certificates we recommend getting an EV SSL which you can get from here which helps build further trust with Google.
We also ran the site through page speed insights, and adding a caching plugin, minified code, replaced images with smaller files, and setup Cloudflare to increase the page load speeds on the site.
This step was the beginning of our off page work. Some important trust building links that Google likes to see are those that appear on social profiles. The business already had a Twitter and Facebook profile, but we built out an additional 14 social profiles and media sharing sites all with a unique business description and link back to the website.  The social profiles we used are listed below: Instagram YouTube Google Drive Blogger WordPress Tumblr Weebly Newsblur Gravatar Pinterest Toodledo 500px Evernote Nimbus Note
Once the social profiles were all setup we connected them to the blog so that every time a new blog post went live it would automatically syndicate out to all of the social profiles with an attribution link back to the post on the site.
This effectively means that every time a new blog post is published it automatically and immediately acquires 14 social links back to it which is a very positive signal to Google.  The properties that we used for this are listed below:
Assuming that your blog has an RSS feed you an easily create Applets with IFTTT that will automatically accomplish this goal.
Now that the on-page and technical were relatively good and we managed to build some trust with Google, we were ready to write and syndicate a press release.  In the best case scenario there would be something really press worthy that the company was doing and we'd get picked up in news stories from the press release, but at this point that wasn't necessary.  We did this press release on the fact that the company launched a new website.  It wasn't particularly exciting, and there was very little chance of it getting picked up, but what it did get us was features and links on over 500 news syndication sites.  This both helps build further trust and authority with Google
The next step was building directory listings or citations.  There are three types of directory listings that are very important for a local electrician to have.  The first is the big high authority listings that all of the other businesses have like Yelp, Hotfrog, Manta, Yellowpages, 411 etc.  You can download a list of the top 50 high authority directories that we usually start with here.
The second type are niche relevant directory listings.  These can be a little trickier to find and often cost a nominal fee to be a part of (it's usually well worth it).  While you can find these with a variety of tools and/or search modifiers the easiest is to use a tool like brightlocal or whitespark which will put together a list of all of the competitors and where they have directory listings which makes it easy to figure out which ones you're missing.
The third type are geographically relevant directories.  These are especially important for ranking the Google My Business profile.  These include any sort of local directories, but a few that are really helpful (although sometimes a little pricy) or local networking groups or associations (specifically the local Chamber of Commerce).
In step nine we researched and put together a list of all of the directories we wanted to be in, and then went through one by one and signed up for them.  (Hint: Use an email different than your regular business email because most of these directories have something to sell.)
In step 10 we started compiling a list of other links that competitors had outside of directory listings. There are a few tools that make this a lot easier. My preference is Ahrefs, but it's quite expensive and doesn't have a free trial. At time of writing Semrush has free tiers or trials, and while their index isn't as good as Ahrefs they're still extremely useful.
With any of these tools you can put in a competitor's domain or a URL and it will tell you what pages on other sites are linking to them.
Once we had a list of all of our competitors' links we went out and tried to get links from the same places. Some were easy, some were difficult and some were impossible. In this step it's important to figure out why the competitor go that link and if we can get one for a similar reason, or if it's something that we can't replicate. Some common ways to get links are by being part of associations, doing presentations, sponsoring events, doing something newsworthy, having a useful resource or guide, doing guest posting on a blog etc.
Once we had as many of the same links as competitors that we could get we moved on to getting additional high quality relevant links that the competitor's didn't have.  To do this effectively the first thing we needed was a piece of "link bait" which was in this case a resource guide on codes and permitting procedures in the city and industry this client worked in.  This was a popular topic that had lots of questions being asked about it on forums and not a lot of reliable answers.
Now that we had a great piece of link bait we started reaching out to DIY blogs, peripheral industry sites etc. to see if they'd include a link on their site to our resource.  We also went on forums and Reddit and answered questions about these topics by referencing our now resource piece which was hosted on the client's website.
In step 13, we did further outreach to bloggers and websites related to the industry, but in this case we pitched that we could provide a free guest post for their site that would be useful to their readers and in exchange all we wanted was a link back to our website.  This opened up some new doors that weren't available in steps 11 and 12 because we could now target niche relevant sites that weren't necessarily geographically relevant, so while these sites had slightly less relevance, they had significantly higher authority.
In our final step we produced a short video that answered some important questions about the industry and distributed it to a number of media sharing sites including Youtube, Vimeo and Slideshare.
In the descriptions we included the business name, address and phone number as well as a link back to the website.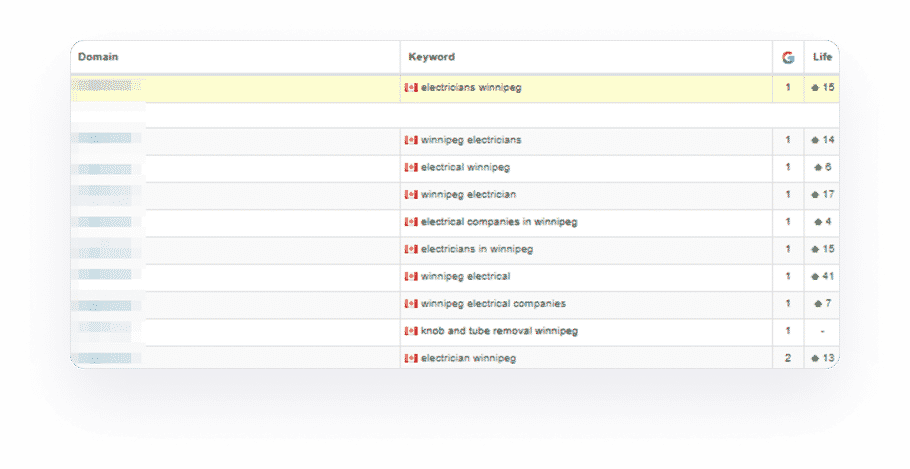 All of this was accomplished over roughly six months and the results speak for themselves.  I should mention, that putting this stuff in place once will improve your rankings, but if you stop being active rankings will inevitably decrease again.  It's important to not only build the foundation but to continue to repeat these steps and add new steps over time to maintain top positions in Google.
If you'd like to download the complete list of high authority Canadian directory sites we used in this case study please click here and I'll send it to your inbox.