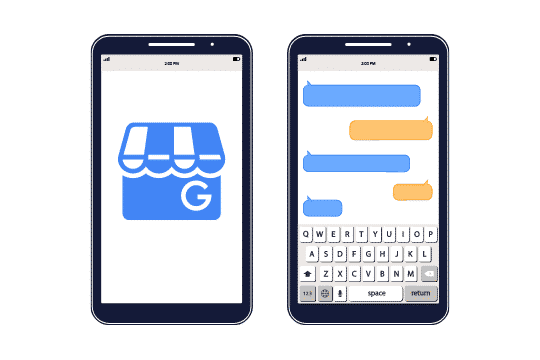 Whenever you have a question, you're used to getting an immediate answer. You type it into Google, and the results load instantly. But if you have a specific question about a business, you usually need to wait a little longer.
That is, unless that business has set up their Google My Business Instant Messaging.
Once you've claimed and verified your GMB, you're free to explore all the features that come along with it. Taking full advantage of your listing allows you to serve your customers better.
The Instant Messaging feature on Google My Business is a convenient and immediate way for customers to ask questions. Not only is it easy for customers to send messages, but it's easy for you to respond!
You want to be available to users whenever they have a question about your business. A direct line of communication with your customers allows you to address questions quickly and easily.
When this feature was first launched, it operated via SMS. Now, it's an instant messaging feature that's more accessible than before. Users can send messages through Google Maps or the website itself (but only on a phone or tablet, not a desktop computer), and businesses can answer using the Google My Business app.
So, now you're convinced that this feature can help your customers learn more about your business. But how do you use it? 
To get started, you'll need to turn on GMB Instant Messaging. Don't worry, it's pretty simple. 
First, you need to download the Google My Business app that we mentioned earlier. If you are on desktop, log in to your Google My Business account and click on the "Messages" section. This will prompt you to download the app.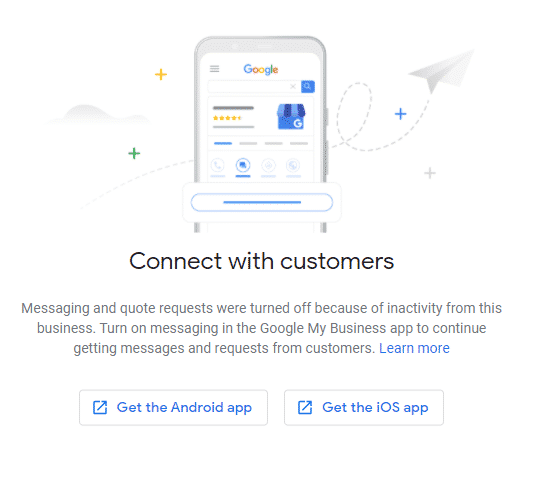 Once the app has downloaded, sign in to your GMB account and select "Settings". Under the "Messages" section, you can tap the button to turn on messaging.
When prompted, verify the mobile phone number the messages will come to.
Next, you can create an automatic greeting for customers that message you. This message will appear automatically to any visitors who click on the Message button on your GMB listing.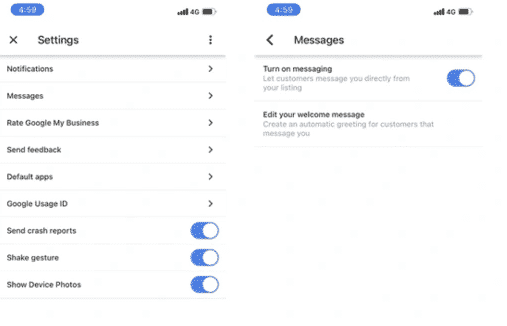 LEARN MORE: Google My Business Messaging Guidelines
Once done, your GMB messaging setup is complete. Let's get into how you can use this feature to your advantage:
Customize your automated message.
In the message settings of your GMB app, you'll notice an option that reads, "Edit your welcome message". This is an automated message that's sent to each user who contacts your business. 
You've only got 120 characters to draft an opening message, so make each word count. Include a friendly greeting, the name of your business, and a question like, "How can I help you?"
Respond ASAP.
Whenever you are notified of a new IM, respond right away! If you take too long to reply, Google may deactivate messaging for your business. Aim to reply to a message within 24 hours. 
Not only will slow response times cause this feature to get deactivated, but they also create a poor impression. You want customers to think that you are attentive and responsive, not negligent or too busy for them. 
Is it hard to find the time to respond to messages? You can set up your account so that multiple users can respond to IMs. Let a trusted employee help you manage your inbox so you can respond to client queries as quickly as possible, and to prevent this convenient feature from ever being deactivated.
Send images if necessary.
A unique feature of the GMB app is that businesses can send messages and photos to customers. Customers can only send messages.
If a customer has a question about a specific product, sending a photo might clarify it for them. Remember that you have this feature at your disposal if the need ever arises.
Be professional.
At the end of the day, you're representing your business. It's imperative to maintain a professional tone, even in a casual IM chat. Be cordial, clear, and accurate when responding to messages. Users will appreciate a manner of professionalism. 
LEARN MORE: Guidelines for representing your business on Google
There are so many features with your GMB account that it can be hard to keep track of. However, one that you shouldn't overlook is the Instant Messaging feature. Using the GMB app, you can respond immediately to any questions that people might have. Doing so can broaden your customer base and improve your reputation.
When customers find your business on Google, they're already at a pivotal moment in the buying cycle—they're looking for a specific product or service, and they've identified that your business offers it. The next step is answering questions and persuading them to trust your business. The GMB Instant Messaging feature is a great way to accomplish these goals.