In the not-so-distant past, the idea of talking to a robot who would help you retrieve information, answer questions, and perform simple (and not-so-simple) tasks at your command was the stuff of science fiction. And yet today, voice assistants like Google Assistant, Siri (Apple), and Alexa (Amazon) use a combination of artificial intelligence (AI) and machine learning to do exactly that—plus much more.
Considering that the number of digital voice assistants on planet Earth is projected to reach 8.4 billion by next year (2024), actually exceeding the population of human beings, it looks as though voice assistant technology is here to stay. And, in the world of search engine optimization (SEO), that can mean one thing and one thing only: It's time to strategize for and implement voice search optimization for your website.
Below, we'll take a closer look at what voice search is, how it differs from text search, and why optimizing for voice search is rapidly becoming a crucial element of effective SEO. We'll also provide some actionable tips for optimizing your website to help you get ahead of the competition and start ranking for relevant voice search queries as soon as possible.
Let's dive in!
What Is Voice Search?
Let's start with the basics. Simply put, voice search is a technology that allows users to conduct online searches using only their voices.
A voice assistant uses the automatic speech recognition technology present in smart devices to:
Transform voice signals into text

Enter queries into a search engine

Deliver relevant results, usually by reading aloud what it deems to be the best short answer available
Voice search is highly convenient, especially when on the go. It's hands-free, and 71% of consumers report that they prefer to conduct queries by voice instead of by typing when possible. Common voice queries include searches for weather reports, news stories, local businesses, and much more.
Voice Search Vs. Text Search
Search engines aim to provide relevant, authoritative, and high-quality results for typed and spoken queries alike. That being said, there are some fundamental differences between these types of searches.
Understanding the elements that often set voice queries apart can inform savvy optimization strategies that will help you effectively rank higher in voice searches and ultimately capture more of your target market.
Below are some of the significant elements that tend to define voice searches:
Local
Very often, voice searches reflect local intent. People are out and about or commuting to or from work when they suddenly realize they need to access a product or service. They quickly conduct a voice search to find the closest business that can meet their needs and re-route accordingly.
Restaurants, gas stations, convenience stores, medical offices, and a plethora of other local businesses can benefit greatly from appearing in locally focused voice searches. Optimizing your GBP (Google Business Profile) is key to ensuring that your business's hours, location, and other relevant information are accurate and readily available (see more below).
Mobile
According to Microsoft, voice-initiated searches account for roughly 20% of all mobile queries. Considering that Google alone processes more than 8.5 billion searches per day in total, that comes to about 1.7 billion mobile voice searches per day.
We rest our case. Mobile optimization is definitely a smart move for your business.
Conversational
Whereas text searches tend to be short, concise, and to the point, voice searches are often more conversational in nature. They use more natural language and often include extra words. They're also often phrased as questions, such as, "Siri, what is the best laundromat service in my neighbourhood?" instead of "best laundromat near me".
While these differences might seem subtle, they can have a significant impact on how search engines rank specific web pages.
Direct and Intentional
Voice searches often seek immediate information or answers to specific questions (though, as natural language processing technology continues to advance, voice assistants can provide answers to increasingly complex queries). It's important to keep this in mind as you construct your content and overall SEO strategy.
Personal
Voice queries are often personal in nature (e.g. "Find me a pair of jeans" or "What's fun to do this weekend in Winnipeg?"), and Google and other search engines aim to tailor search results accordingly. Understanding and anticipating the tastes and desires of your ideal customers can help differentiate your business in voice searches.
Why Is Voice Search Optimization Important in 2023?
With a 2022 report from UpCity revealing that 50% of U.S. consumers use voice search daily, it's not hard to extrapolate the significance of voice search optimization for your website's search engine rankings, conversion rates, and revenue.
Here are a few more reasons why voice search optimization will benefit your business in 2023:
Superior user experience

Increased visibility and local traffic

A competitive edge over other businesses in your niche
So, how do you actually go about implementing effective strategies for voice search optimization? Let's take a closer look:
Key Strategies for Voice Search Optimization
Know Your Consumer Base
Knowing your consumer base is crucial for any type of marketing, including SEO, and voice search SEO is no exception. Before you implement any specific strategies, take time to:
Research voice search trends in your location and/or industry niche

Gather information from your consumer base about how they use voice search

Create customer personas to better anticipate how to optimize your website for voice search
Optimize for Local SEO
For local businesses, applying best practices for local SEO is fundamental to successful voice search optimization. Among other things, this means ensuring that you've claimed your Google Business Profile (GBP) and that it's optimized with up-to-date information about your business. At First Rank, we recommend adding targeted service and product descriptions as well as regular posts to ensure your business listing is optimally relevant and responsive.
Make Your Site Mobile Friendly
A mobile responsive website is critical for many reasons, and voice search optimization is one of them. Because an overwhelming number of voice searches are carried out on mobile devices, search engines favour websites that are optimized accordingly. If you haven't already, invest the time and energy to create a mobile version of your website that ensures a comfortable and convenient experience for potential customers.
Structured Data
Adding structured data (also known as schema markup) to your website is an important step to take for voice search optimization. It helps search engine algorithms efficiently understand and categorize your website's content, leading to higher rankings. For more information about how structured data can benefit your website, contact us at First Rank directly.
Create Voice-Search-Friendly Content
Developing voice-search-friendly content may involve re-writing and/or restructuring some or all of your existing content. While this may sound like a daunting prospect, remember that subtle content tweaks can have a huge impact on voice search rankings.
Here are our two biggest tips:
Long-Tail Keywords
Voice queries are often conversational in nature, and the content on your website needs to reflect that. Research and consider long-tail or question-based keywords that you believe your business could realistically rank for, and incorporate them into friendly, genuine, and catchy content pieces. As with all website content, avoid keyword stuffing or other tactics that make your content sound unnatural.
Focus on FAQs
Voice queries are often seeking the answer to a specific question, so modify your content accordingly. Include clear, concise answers to common questions about your business throughout your content (blogs, FAQ sections, and even product descriptions). Ideally, you'll get featured snippets, and your website will be the one read aloud by voice assistants to potential customers or clients.
Conclusion
To conclude, voice search optimization is already a crucial element of effective SEO and is poised to become even more so in the near future. People are increasingly comfortable turning to their smart devices for convenient, hands-free search options, and voice assistants are increasingly able to provide relevant, personalized results—even to complex queries.
In the world of text searches, users have the opportunity to scroll through multiple results, but in the world of voice searches, just one result is normally read aloud by the voice assistant.
Translation: Reaching the #1 rank spot is even more important in voice search optimization than in text-based SEO.
There's some food for thought and yet another reason why turning to an experienced and professional agency to assist you with your SEO needs is highly recommended. To learn more about how First Rank SEO can support you with your voice search optimization and other SEO needs, contact us directly today!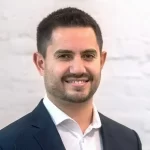 Jacob Kettner is the owner and CEO of First Rank Inc., a digital marketing agency based in Winnipeg, Manitoba. He currently sits on Manitoba Chamber of Commerce Small Business Advisor Council which assists people grow their small businesses in Manitoba.