Your Google Business Profile (formerly known as Google My Business) is one of your most essential tools for local SEO. Seriously, local SEO is basically built around making your Business Profile (from here on out, abbreviated to GBP) as visible as possible. 
We want your business to be the first thing people see when they search for relevant terms, and the GBP 3-Pack, a Rich Result that offers reviews, location, and much more, is only available to businesses with high-performing GBPs.
We're getting ahead of ourselves, though. Before you optimize your GBP, you'll need to create or claim it. In this article, we'll go over how to create, claim, and verify your GBP. There's a lot of ground to cover (including some changes to the verification process that are on the horizon), so let's get started.
How to create a Business Profile
To create a GBP, you'll go to the Google Business page. From here, you'll hit the "Manage now" button. 
We've already got a business called First Rank, so let's go ahead and make a sequel – we'll call it Second Rank. Start typing in the name of your business in the "Business name" field. As we type in "Second", we get the following results: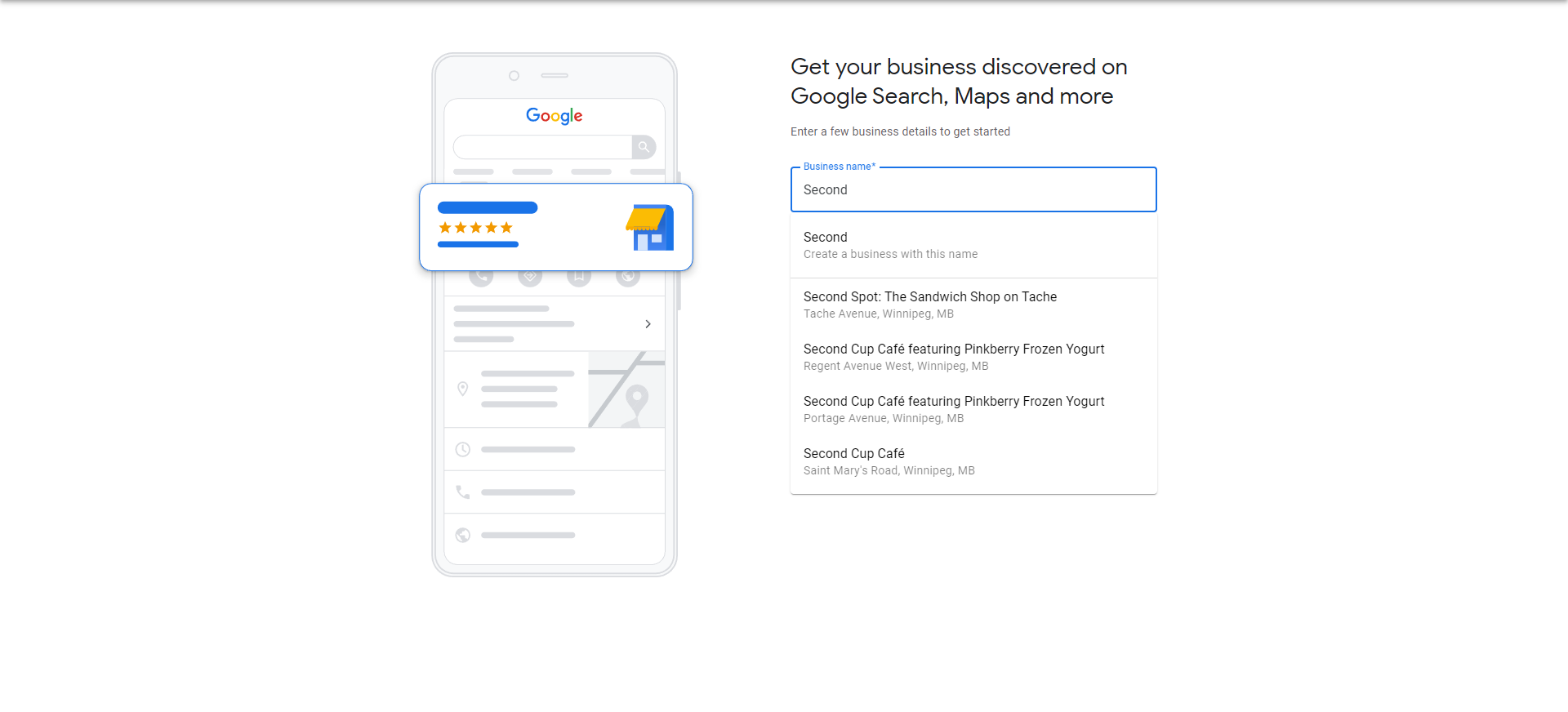 This will be relevant if your business is already listed with Google (i.e., there's an existing GBP for your business) – but Second Rank doesn't exist. As such, we'll simply click "Continue".

From here, follow the step-by-step process. Google will ask you what type of business you have (online retail, local store, and/or service business) – select all that apply. You'll be asked for: 
Your web address (if you selected online retail)

Your business category (in our case, marketing agency applies, but you might be a record store or something else entirely),

Your physical address (if you selected local store)

Your service area (if you didn't select local store)
Input all of the relevant information, hit "Continue", and you've got yourself a GBP – albeit one that's still pending verification. 
How to claim an existing Business Profile
The process for claiming your GBP is, fortunately, very similar to the process of creating a new one. You'll type the name of your business in the "Business name" field, as described above. Instead of simply clicking "Continue", you'll instead find the name of your business from the dropdown menu that appears.
Imagine we were trying to claim the GBP for First Rank. The process would look like this:

Click on the name of the business. You'll then be brought to a page that looks like this (if the GBP has already been claimed):

When this page pops up, it means someone else has already laid claim to your GBP – though you can request access from the person who claimed it. 
Alternatively, a page featuring a preview of your Business Profile (as seen above) with a "Manage now" call to action may appear. This means Google already has a profile for your business, but no one has claimed it yet – simply click "Manage now" to begin the verification process. 
How to verify ownership of your Business Profile
Now we come to the meat of this article – how to verify your Business Profile once you've claimed it.
The point of verification is simple: Anyone can claim a Business Profile, so Google needs to confirm that the person who has claimed a business actually owns or manages it. To do this, it created the verification process. As no two businesses are exactly alike, Google allows you to verify your GBP in a number of different ways. You can verify by:
Phone/text

Video

Email

Postcard

Video call
Once you've added or claimed a GBP using your Google account, you'll be able to manage your listing over Google Search. Simply Google the term "my business", and a page that looks a little something like this should pop up: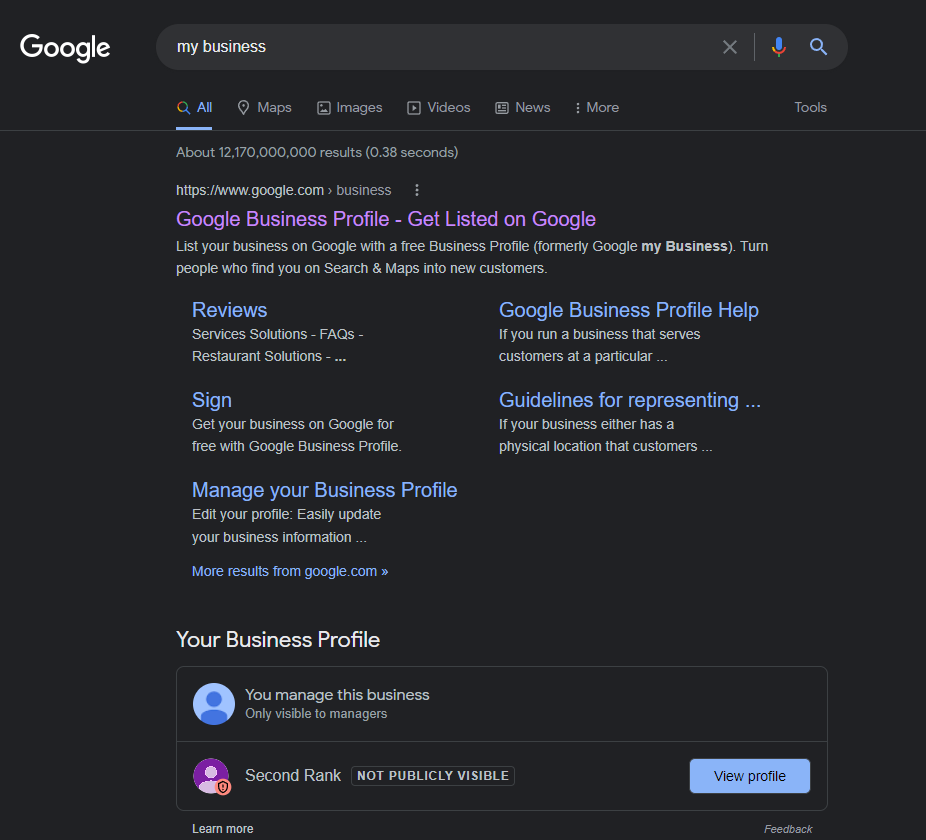 Well, would you look at that – it's Second Rank! You'll notice it says "NOT PUBLICLY VISIBLE" in bold, eye-catching font – that's because Google wants us to verify our business! To do this, we simply need to click "View profile", which will lead us to a page that looks like this: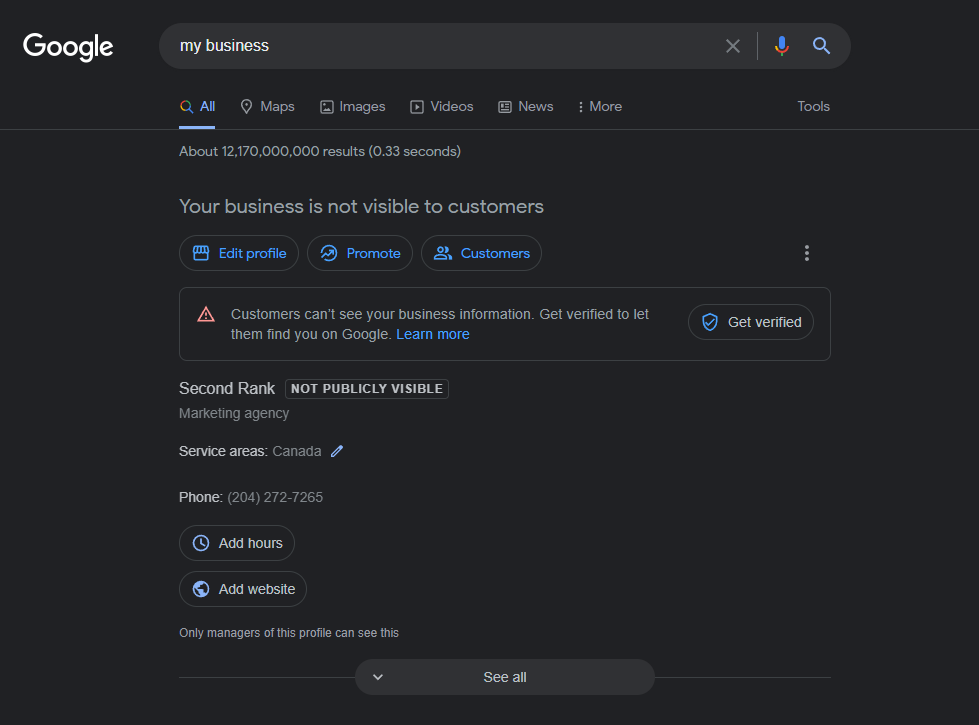 As you can see, Google gives you a ton of options – you can edit your profile, promote your GBP, and more. Of course, none of that matters to us in this article (though it's all very relevant to local SEO) – we're just trying to get verified. To do so, we'll click the "Get verified" button, which leads us to this page: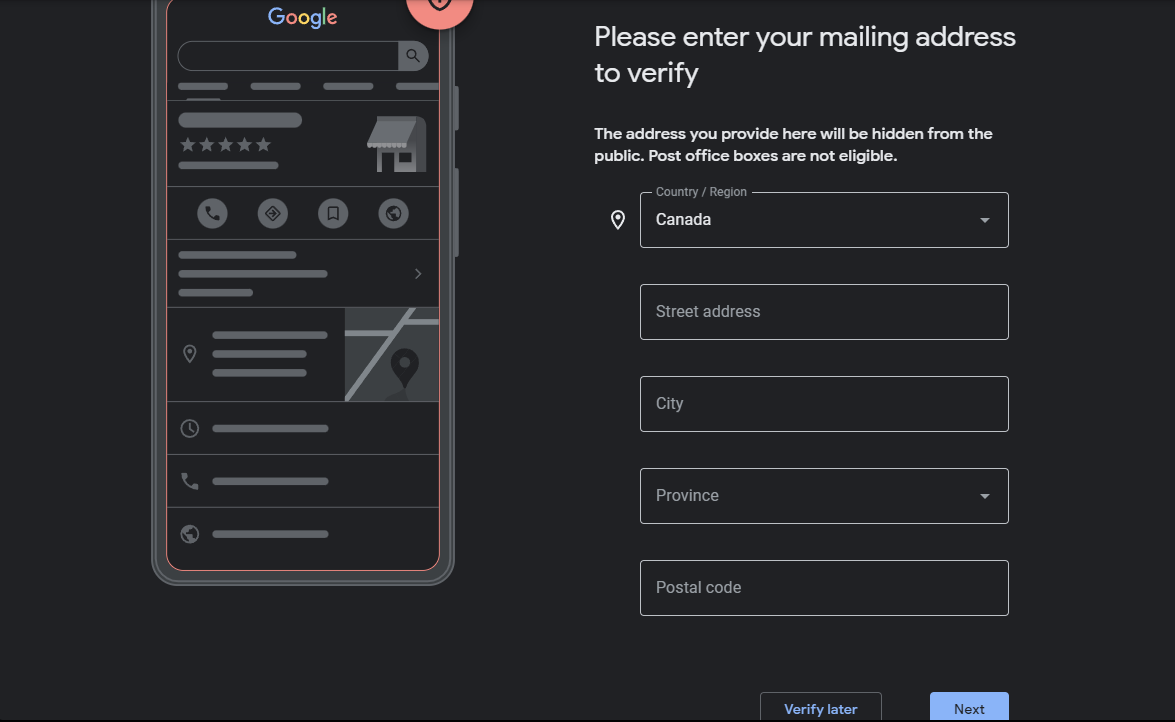 Your page might look different – in our example, we didn't set a physical address when we claimed our GBP, but in certain circumstances, you may have to. When we hit "Next", we're presented with our verification options: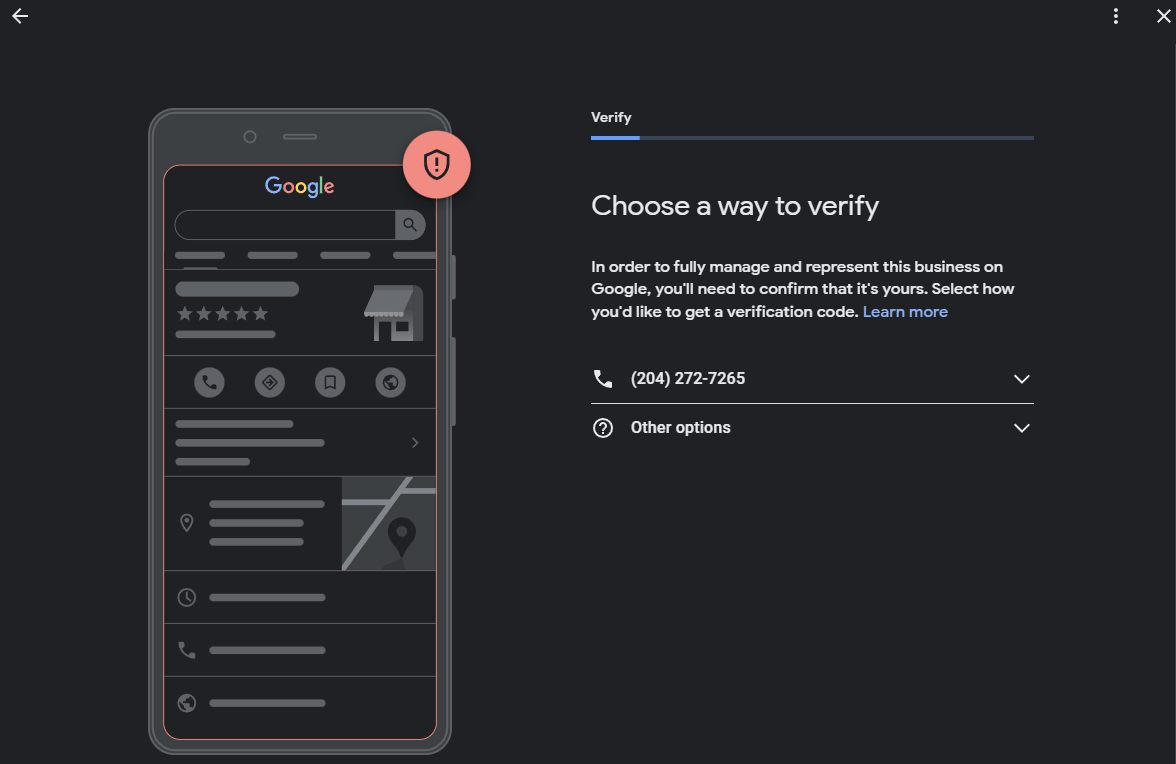 In our case, Google will only allow us to verify our GBP by phone or text. That's an important thing to understand – the verification options that Google will let you take aren't static; they depend on the information contained within your GBP. In our case, we didn't include a public address or a website, so email and video verification aren't available. Postcard verification isn't an option we got, either.
Is Google getting rid of postcard verification?
On that note, we wanted to take a brief moment to talk about postcard verification. In recent months, video verification has been an option more often than it used to be – and postcard verification seems to have fallen by the wayside. This has led some to suspect that Google is doing away with postcards entirely. 
We're not ready to say Google is getting rid of postcard verification; it's still listed as one of Google's verification methods, and it still has a few advantages. We do, however, expect that most verification will occur by phone or video in the future.
Phone verification
Phone verification is pretty straightforward – Google calls or texts you with a code, then you enter the code into your profile to verify. Simple!
Email verification
Much like phone verification, email verification is fairly straightforward – Google will send you an email, then you follow the steps in the email to verify your account. 
Video verification
Video is one of the most thorough verification methods, and it's used to confirm that you have access to the premises you're claiming as your business address. In the "Get verified" section of your Business Profile, you'll be able to press "Capture video", and then "Start recording" on your phone in order to prove you have access to the premises. Your video should include:
Your location (Capture your address, signs showing your business name, and the surrounding area.)

Details about your business (Capture stock, machinery, and other inventory and equipment that demonstrate the type of business you run.)

Proof of access, aka proof of management (Use your keys to open the business on video, enter employee-only areas using a key code, etc.) Note: You don't have to

show

Google any sensitive information – that can be kept off-camera.
Video call verification
Yet another video verification method is the video call – it's essentially the same as video verification, but you'll be on a live call with a Google rep who can talk you through the process. For both video and video call verification, have a route planned out, and be ready with a good camera, your keys, and anything else you'll need to conduct a tour of the premises.
Postcard verification
Postcard verification is almost exactly like phone verification – you'll receive a code and input it in the verification section of your Business Profile. The difference, of course, is that the postcard will be sent to your business address, and you'll have to wait for it to arrive. At least you don't have to mail it back!
How long does verification take?
Even with phone or video verification, the process isn't instantaneous. Once you've completed your part of the verification process, Google will usually take around a week to confirm that you're verified. If your business is verified, you'll receive a notification. If it isn't, the "Get verified" button will appear again on your Business Profile, and you'll need to try again with a new verification method.
Now you know everything you need to about claiming and verifying your Google Business Profile. Have any questions? Give us a call! Our SEO agency in Winnipeg, Manitoba has handled hundreds of GBP verifications – and we'd be happy to help you with yours.