AI content is taking the world by storm. There are countless examples of AI content out there, and it's likely you've read some content generated by AI. 
AI is here to stay—and it's a powerful method of generating content. Here at First Rank, we provide AI-assisted content or regular human-written content. AI content can be a less expensive alternative—but it's important to know that a lot of resources go into all the content we write at First Rank, be it AI-written or otherwise. 
What Is AI Content?
AI content is any content that's been written, in whole or in part, by an artificial intelligence (AI). Typically, this means ChatGPT, but other platforms like Google Bard are gaining traction. 
Almost all of the content you might read in the modern era is, at the very least, AI-influenced—tools like ChatGPT, as well as a wide variety of AI tools used in SEO, are an invaluable part of the content creation process. ChatGPT is the greatest research assistant ever created for general knowledge. Aside from using it to generate the content you want to post, it can be used for:
Brainstorming for keyword and topic ideas

Offering deeper insights into the topic you're writing about

Helping predict and answer questions readers might have

And more
In this article, we'll cover our AI-assisted content process and why it's less expensive—but not as inexpensive as you might initially assume. 
Is AI Content Less Expensive?
Yes, AI content is less expensive than content written by a human. AI writing tools are inexpensive.
This doesn't mean that AI content is free, however. In the context of SEO, there's a lot of work that goes into building any kind of content, no matter how it's written. To create high-quality content that ranks, you'll need:
Keyword research

Search intent research

Natural language processing (NLP) research

A well-structured article

Careful editing

A well-thought-out linking structure

And more
Creating a viable content strategy, optimizing the inputs that are fed into the AI, and then editing the content to look human—all of this takes time, energy, and brainpower. Our technical team puts a lot of effort into developing AI-generated content; while it's less expensive than content written by humans, it's certainly not without its costs.
You should know that human-written content undergoes all of the same steps—keyword research, language processing, structuring, editing, and linking. We do everything we can to ensure your content will rank well—whether it's written by AI or written by our (human) writing team.
How First Rank Creates AI-Assisted Content
We follow a careful step-by-step process to create AI-assisted content:
Step 1: Keyword and Search Intent Research
Using a variety of different tools, we determine which keywords to target with our AI content. This research includes evaluating:
Which keywords get the most searches

How difficult it is to rank for those keywords

Whether people searching for those keywords are looking for information, to complete a transaction, to compare products, or something else

The content that already exists on your site that might rank for those keywords
With all of this information, we can hone in on the keywords we want the content to rank for. These tools will also help us determine questions we can answer in the article—all in an effort to funnel users to your content.
Step 2: NLP Analysis
Natural language processing involves asking a program to synthesize language and find key patterns within it. Typically, it's used for things like getting your Alexa to understand what you mean when you ask it to remind you to get chocolate milk from the grocery store, but in the world of SEO, NLP serves an altogether different purpose.
Our language processing tools scrape hundreds of articles that rank for the keywords we're targeting. We can use the information it provides us to assess:
What terms we should include in your article, and how frequently

What headings we should use, and how many

How many words your article should be

And more
As we mentioned above, this process is used for human writers and AI-written content. What's awesome about the tools we use is that they give us the resources we need to feed the writers a lot of useful information. We can tell it to include the terms described by the NLP tool as many times as the tool recommends, a simple way of making content that's more likely to rank.
Step 3: Structuring the Content
Headings, the amount of text below each heading, and how we prioritize topics—all of these affect the structure of your content. 
ChatGPT and other AI content-building tools are best at writing small articles—generally in the realm of 500 words or fewer. By carefully structuring the article, we can feed content requests to AI bit-by-bit, ensuring that each section is of the highest quality possible. From there, we can consolidate everything together through the magic of prompt engineering and human editing.
Depending on the niche and information available online, AI can be prone to making mistakes. There is also a chance that the content, to a keen eye (or a keen AI detection tool), they create is very obviously not generated by a human. That brings us to the next step—editing!
Step 4: Editing AI Content
We use several techniques to ensure that AI content is enjoyable, easy to read, and factual. These include editors who:
Ensure that the content is well-written and meets the tone your company is looking for

Fact-check the content

Re-write meta descriptions, headings, and other specific parts of the content to ensure they meet optimization standards

Add optimized images to the content

And more
Once your content is edited, it will be sent for your approval and then can be posted to your site!
Creating Content With First Rank
Whether you're looking for AI-assisted content or content written by humans, you can always count on First Rank for high-quality content written with SEO as a top priority. Call us today!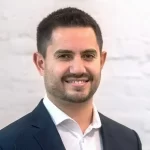 Jacob Kettner is the owner and CEO of First Rank Inc., a digital marketing agency based in Winnipeg, Manitoba. He currently sits on Manitoba Chamber of Commerce Small Business Advisor Council which assists people grow their small businesses in Manitoba.