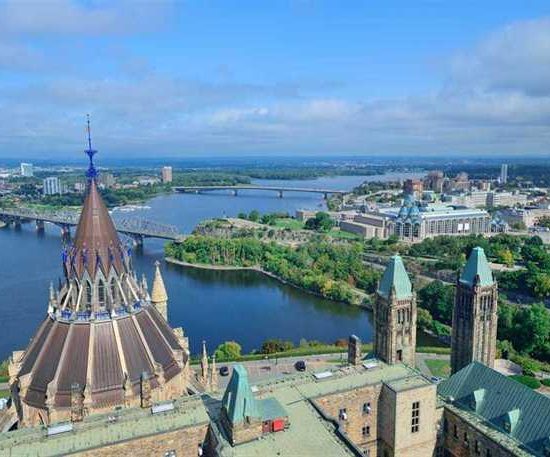 As the capital of the country, there is no shortage of sights to see in Ottawa; it's the quintessential Canadian city. Ottawans enjoy four distinct seasons, including the snowy winters that our great country is known for. Skaters in this city love gliding down the Rideau Canal, which is 7.8 KM, making it one of the longest skating rinks in the world. But it's not all about winter in this city: in May, there's the Canadian Tulip Festival, which celebrates the liberation of the Netherlands when tulips were gifted as a symbol of friendship from the Dutch to Canadians. Those who appreciate architecture must visit the Parliament Building, which is distinctly gothic. Ottawa is full of students seeking higher education at Carleton University or the University of Ottawa. For a taste of the finer things, residents can visit the National Arts Centre. With all these attractions, it's no wonder that so many choose to live in this city. 
Recent estimates indicate that Ottawa has a population of over one million. For your business to thrive in such a populated city, you need the proper marketing; it will help you rise above the competition. There are so many ways to market yourself these days that it's hard to keep track. You want to allocate your resources to get the highest ROI; how do you know which strategy is most effective for marketing your business in Ottawa?
Traditional Marketing 
This form of advertising is what we've been exposed to thousands of times throughout our lives. From the commercials we see on TV to the billboards we view when driving home, it's prevalent everywhere we go. This creates a type of fatigue with consumers; they see so many ads in this form that they learn to tune them out. 
To reach the busy people of Ottawa, you need to meet them where they're at: online. Digital marketing can help you branch out your business to a new customer base.
Social Media Marketing
How many times have you checked your phone since you started reading this post? Most of us are guilty of being too screen-centric; you might feel shocked if you saw the daily screen time on your phone. Businesses try to capitalize on this market by promoting themselves on social media. This can be done through paid ads on Facebook or Instagram, or by creating accounts that regularly post content. 
If you're able to gain a following, a social media profile can give your business more exposure. It comes with a few unique challenges; namely, it's hard to convert likes into leads. Just because someone follows your account, doesn't mean they'll become a paying customer. People visit social media for entertainment, humour, or inspiration—they aren't necessarily looking to buy products. Even with the savviest Tweets, you might not generate leads from that type of campaign. 
Email Marketing
People check their emails multiple times a day, and companies capitalize on this by sending their customers messages regularly. If there's one thing that's universally hated, it's spam. A consumer deals with enough notifications in a day, and they don't want to be bogged down by generic promotions from businesses they've forgotten about. Loyal customers might appreciate the occasional email, but send too many and they'll add you to their block list. You want to reach your customers without pestering them; an email campaign will run that risk. There are strict regulations you need to follow when sending emails, like asking customers to opt-in and making it easy to opt-out. It also takes up valuable time to write pitches and collect email addresses. Isn't there a better way to market your business? 
Search Engine Optimization
People don't like ads, because they know that they are paid for; they prefer to see organic results that they can trust. That's why 70-80% of consumers ignore paid ads and pick organic results instead. SEO is designed to tap into this market. It puts your website in the top spots that consumers will click. Other marketing campaigns generate some leads for your business, but only SEO has a lead closing rate of 14.6%. The potential return on your investment makes this method pay for itself. 
You know how SEO can help your Ottawa business, but how does it work? Other marketing methods are fairly easy to grasp: commercials are played on TV, posters are hung in public spaces, and emails are sent to customers. SEO isn't just one technique; it involves link-building, technical optimization, and content creation. But that's not all—Google claims that there are over 200 ranking factors. This is not a job for an individual, especially one who's managing a business. You'll need to hire an agency to conquer the algorithm proficiently.
SEO is hard to understand, but its benefits are simple: it creates more leads, which then result in more revenue. For Ottawa search engine optimization, you need an agency that understands the complexity of a constantly-changing algorithm. Our SEO experts at First Rank can help expose your business to the thousands of Ottawans searching for your services.