Google Ads are an effective way to reach anyone who uses Google as a search engine. If you're here, it means you're willing to work with us and share access to your Google Ads account. In order to proceed, you will first need to provide access to our team. Granting access will ensure that anyone who needs to get into the account can do so without needing to request access. It's also a protective measure to keep your information safe. There's no need to worry. You will still be able to view and access your Google Ads account as we assist you during your campaign. 
Google has implemented a simple procedure to ensure that you have full control over who can receive access to your account. Follow our step-by-step instructions below, grant access, and we can begin working on your new Google Ads campaign. 

1. Client: Send your 10 Digit Google Ads ID to your First Rank Account Manager. Your ID is located in the top right corner when you are logged into Google Ads (https://ads.google.com/)
2. First Rank: We will request access to your Google Ads Account
3. Client: You will receive the below email – Click 'Accept Request'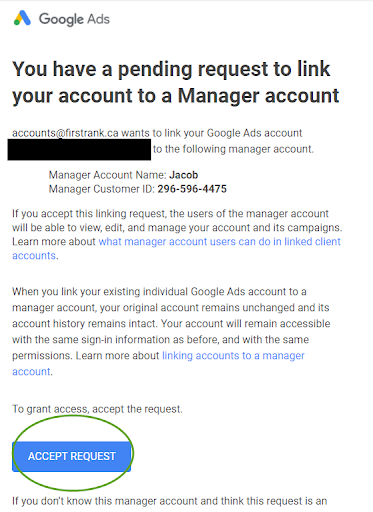 4. Client: Once you click 'Accept Request' in the email, you will need to click 'Accept' again on this page:

5. Client: Once you click 'Accept' you will then need to click 'Grant Access'

6. Completed
If you have any questions please contact your account manager.