As the capital of Canada, Ottawa is home to a growing number of government agencies, such as Parliament Hill and the National Gallery of Canada. While these entities have a lot on their plates, it's important to ensure they maintain a strong online presence. While most government websites have a slight advantage over commercial sites, having a well-thought-out SEO strategy can help users find what they're looking for. 
Tips for Optimizing Your Ottawa Agency Website for SEO
Use Local Keywords
As a government agency in Ottawa, it's integral to optimize your website for local search terms. Local search terms, or local keywords, are location-specific phrases. Those locally specific phrases help deliver results relating to the geographic location. 
For example, local keywords such as "Ottawa" and "Government of Canada" could be used in your website's metadata and content. 
There are many keyword research tools available to help you find relevant search terms, such as Semrush, Ahrefs, KWFinder, or Google Search Console. 
It can be overwhelming to stare at the long list of keywords. Focus on industry-specific terms and make sure to specify your location. Using local keywords helps users find small businesses, restaurants, and, of course, government agencies. 
Make Use of Structured Data 
Structured data, also known as schema markup, is a way to annotate your website's content in a way that's easier for search engines to understand. 
By using structured data, you're helping search engines determine what type of content is on your website and whether it will improve your search visibility. 
Here are some examples of schema types:
The GovernmenOrganization and GovernmentOffice schema types are used to mark up the websites of government agencies and organizations to provide additional context and information to search engines. 
However, both schemas mark up slightly different types of government entities. 
The GovernmentOrganization schema type is used to mark up the websites of larger government organizations with multiple offices or departments. It could be a provincial/national government or an agency that oversees multiple offices and departments around Ottawa.
The GovernmentOffice schema type marks up websites for specific government offices or departments. It can be a local government office like city hall or a federal government agency, such as the Department of Health and Human Services. 
In general, the GovernmentOffice schema is used for more specific government entities, while the GovernmentOrganization schema type is meant for broader organizations. 
Optimize Your Website for Mobile & Accessibility 
Optimizing your Ottawa government website for mobile and accessibility can work wonders for your SEO marketing strategy, as it provides better search visibility. Google and SEO experts have stated that mobile-friendliness is a powerful ranking factor for search results. If your website isn't optimized for mobile use, it may rank lower in search results compared to mobile-friendly websites.
A mobile-optimized website is also more accessible to individuals with disabilities, as it can be used with assistive technologies, such as screen readers. By making your website more accessible, you can help ensure that your services are available to a broader range of people. 
Leverage Social Media
Promoting your website on social media can be advantageous for government agencies in Ottawa.
Here are a few specific ways that promoting on a social media platform can help your SEO campaign:
Increased Website Traffic:

Promoting your website on social media platforms can drive more traffic to your site and increase the number of people aware of your agency.

Improved Search Visibility:

Google and other search engines often use social media signals as a ranking factor, such as the number of shares and likes that a webpage receives. Promoting your website on social media can increase those social signals to improve your search rankings.

Greater Engagement:

Social media is a great platform for government agencies to interact with the public. You can use it to foster a sense of community and build relationships with the good people of Ottawa.

Improved Customer Service:

By monitoring social media, you can quickly respond to questions and concerns from the public. This can help improve your customer service and build a trusting relationship with the people you serve. 

Increased Transparency:

Using social media to share updates and information about your government agency can help increase transparency with the public.
Challenges for Government Agencies 
Many government agencies in Ottawa might face several challenges when trying to optimize their websites for SEO:
Limited resources

Outdated technology 

Strict content guidelines

Online safety and security
Benefits of Hiring an SEO Agency 
When hiring an experienced SEO company, you will receive access to some of the best SEO strategies to help your Ottawa agency's website. 
You can expect to see these specific benefits from a successful SEO strategy: 
Increased website traffic

Improved customer service

Elevated transparency
Contact First Rank in Ottawa for consulting if you believe your Ottawa government agency could use the help of SEO professionals. Our dedicated team can provide an array of SEO services to assist with your website's optimization process. 
We look forward to hearing from you.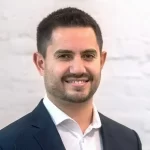 Jacob Kettner is the owner and CEO of First Rank Inc., a digital marketing agency based in Winnipeg, Manitoba. He currently sits on Manitoba Chamber of Commerce Small Business Advisor Council which assists people grow their small businesses in Manitoba.