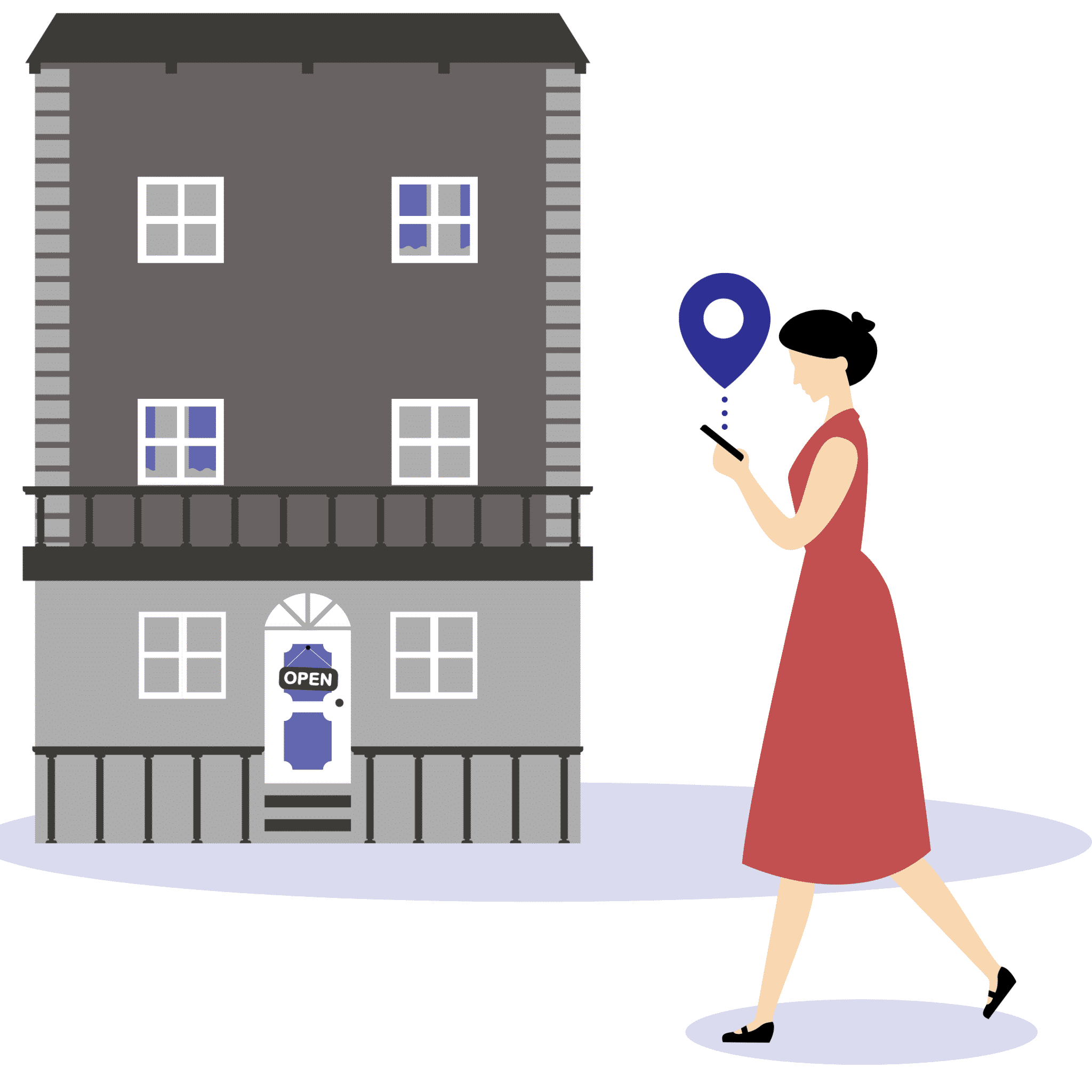 Ever heard the saying, "cite your sources"? When it comes to digital marketing, citations aren't about plagiarism—they are a tool to help companies rank higher in search results, and convert people that browse business directories into paying customers. By building citations, your business builds authority therefore search engines can recognize your website as a credible source of information. Consistent citations with the correct information can boost your SEO. It also helps consumers find the services and products that you have to offer and makes it easy for them to contact you.
A local citation is any online mention of the name, address, and phone number for a local business. Citations can occur on business directories, on websites and apps, and on social platforms.
"Citation Signals" are important for local ranking. What we're talking about here is name, address, and phone number (NAP) citations. This is, in essence, where your contact information appears on the web, and in what format. NAP citations are important because search engines do not want to give people the wrong contact information – it's bad for everyone. There are potential citations for your business all over the internet. You might find them in:
Major sites like Google and Facebook

Directories like Hotfrog and YellowPages

Blogs, local newspapers, and other small sites
Having accurate NAP citations isn't just good for SEO – it's good for business. You don't want to lose clients because they had the wrong contact information.
Auditing Citations
The first step to perfect NAP citations is an audit. There are a number of free to use websites that can help with this. Let's start with Moz's Citation Tool: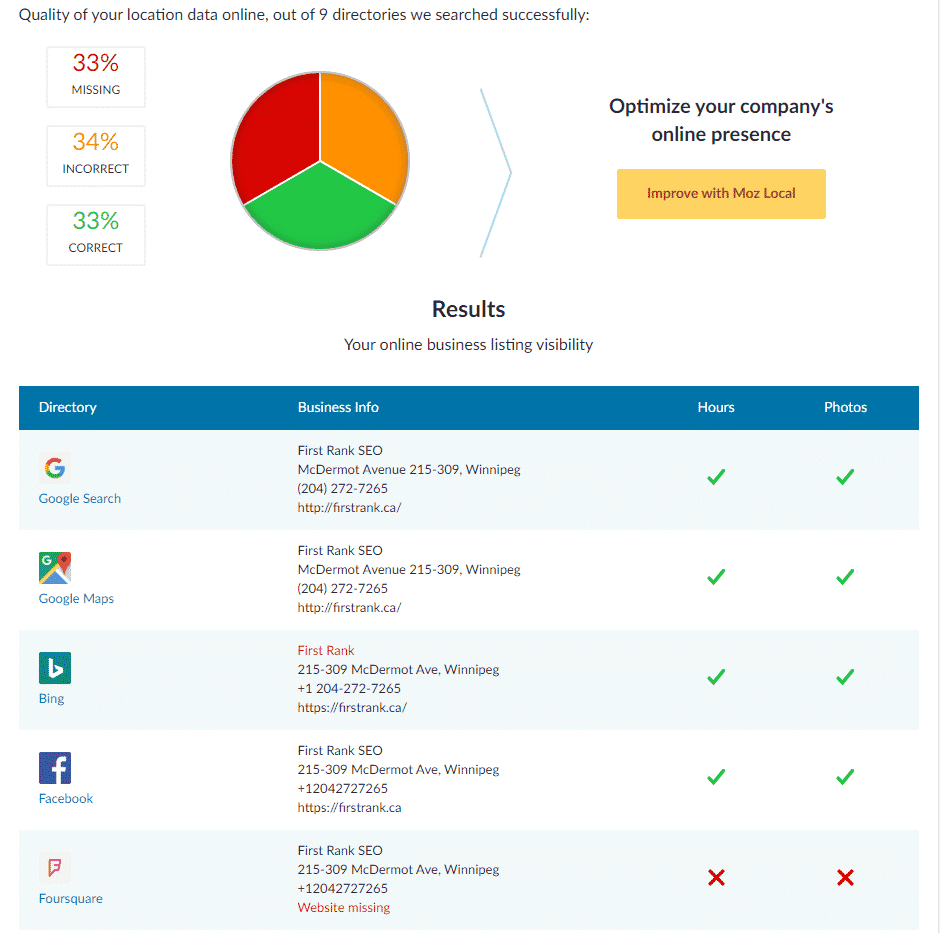 You can see that we're missing results on some of what Moz considers to be important aggregators, that we can add a website to our Foursquare page, and that we can edit our name on Bing. These are very easy wins. You can see that even the slightest difference in the name will be flagged as incorrect – you need to keep your NAP citations consistent across all platforms.
The Moz tool is a great start, but there's a lot of potential NAP citation errors that won't get shown there; they're really only displaying large sites/directories. To find even more NAP citation problems, we're going to get a little help from Google.
Manual NAP Citation Research
When most people use Google, they simply pop in keywords and go. What you may not know is that Google is insanely powerful; you can use operators to narrow down on particular search results. Moz created a list of Google operators that you might find useful in all of your searches. For our purposes, we're going to focus on the " " and – operators to find incomplete or incorrect citations. The " " operator means that the search results must contain a term which exactly matches the term contained within " ". The – operator means that the search must not contain the term that was affected by the -. 
We can follow the following formats for incomplete citations:
"Name" "Address" -"Phone number" (For citations without your phone number"

"Name" "Phone number" -"Address" (For citations without your address)

"Address" "Phone number" -"Name" (For citations without your business name)
Note that your address doesn't have to be complete; the street address is sufficient.
For incorrect citations, we can use the following:
"Address" "Phone number" "Former/incorrect name" (For citations with an old/incomplete business name)

"Phone number" "Name" "Former/incorrect address" (For citations with an old/incomplete address)

"Address" "Name" "Former/incorrect phone number" (For citations with an old phone number)
Building Citations
Now that we've audited our citations, it's time to build more. There are a couple of ways of doing this – we can go the manual route, or we can go with paid tools.
Manual Citation Building
One of the easiest ways to build citations is to contact the big data aggregators in a given country. These aggregators get NAP information about as many companies as they can, then distribute it to other websites like Google.
Moz has a detailed post about the Canadian local search ecosystem. In it, we can see that Yellow Pages Group (YPG) is an absolutely central player in the ecosystem: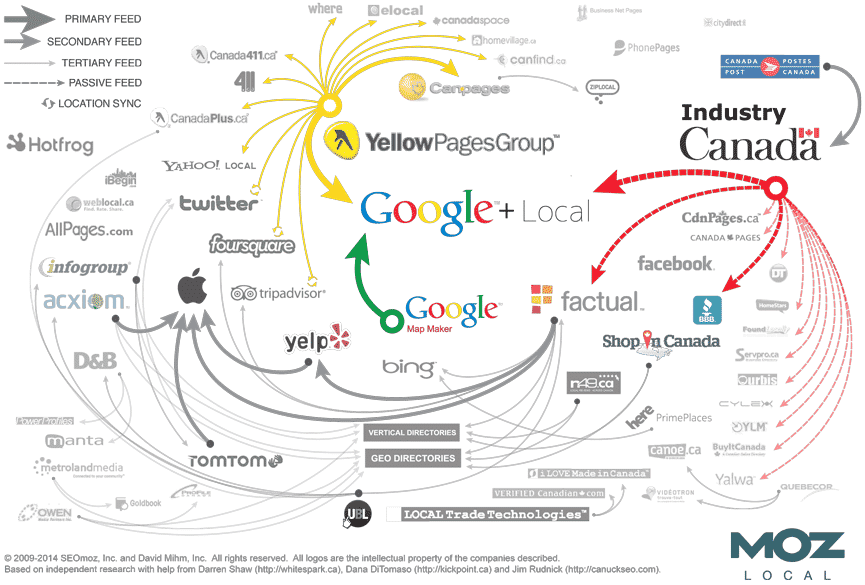 That means if your listing with YPG isn't accurate, you might come across a whole host of missing or incorrect citations. Incredible how a phone book maker has managed to stay relevant in the digital age. They even provide a scanning tool to search for incorrect citations. You can update your information with them for free by searching here or here and making sure your NAP is up to date.
You'll note that Industry Canada is an important aggregator – so long as your corporate information is appropriately listed with provincial or federal entities, you won't have to worry too much about them. More manual citations can be built by going directly to some of the websites you see above and registering or modifying existing business info. Some of our friends in the industry have already built a couple of lists:
The process of manual citation building can be…well, long and boring. And we mean really long – it'll probably take you hours to do properly. People love automating for this exact reason, which brings us to…
Paid Citation Building
There are a number of sites that offer freemium or paid citation building to take some of the stress out of your life. Perhaps unsurprisingly, two of the biggest are BrightLocal and WhiteSpark – they provided us with the citation site lists above. 
WhiteSpark's Local Citation Finder can be used to help you find citations: there's a free version, but you won't get a ton of data from it. The premium versions help you source more citations and do competitor analysis. BrightLocal will build citations for you: they have a Citation Builder for individual websites and a Local Data Aggregator tool. That tool is less useful in Canada than it is in the United States, because the biggest aggregators here are YPG and the Government – not too hard to do yourself.
Building citations will help with SEO by showing search engines that your business is trustworthy and relevant. It increases your online presence and credibility. But even the world's best SEO is pointless without the correct information. An audit can help you locate and correct outdated addresses or phone numbers. People appreciate convenience—local citations help customers find your company online and contact you directly. Whether you opt to do it manually or partner with an SEO Agency that builds them for you, citations are an important part of your business's online presence.
Citations are just one part of SEO for your local business. Check out our comprehensive guide to local business seo in 2020.