Search engine optimization (SEO) is all about getting your website and its pages to rank well on search engines.
An SEO consultant is someone who teaches your marketing team how to get your site to rank on Google and other search engines. Any digital marketing strategy that doesn't have an SEO component is incomplete.
Don't believe us? Here are a couple of mind-boggling statistics sourced from Ahrefs (creator of some of the most powerful SEO tools on the market) that it sourced from a variety of places on the internet:
92.96% of global web traffic comes from Google Search, Google Images, and Google Maps.
90.63% of pages get no organic search traffic (unpaid traffic) from Google.
In short (though it's a bit of an oversimplification), 91% of pages are missing out on 93% of web traffic. Want your pages to be part of the rare 9% that receive 93% of traffic? You need an SEO strategy—and an SEO consultant can help.
What Do SEO Consultants Do?
SEO consultants provide your company with strategies, techniques, and advice on SEO. A good consultant will have years of experience in the field with proven results—SEO is fast-paced, so they should be up-to-date with the latest developments. We can break an SEO consultant's work down into four parts: Industry research, keyword research, optimizations, and data analysis.
Industry Research
A good SEO consultant will be constantly researching the latest developments in search engine optimization; they'll keep on top of changes to Google's algorithms, new techniques that have been developed, and more.
A great SEO consultant will go well beyond that, looking at trends in your industry. They'll perform in-depth competitor analysis to understand where your competitors are outperforming you on search engines—and why. They'll learn about the links that your competitors are earning, the strategies they're employing, and more—then they'll help you beat your competitors at their own game.
Keyword Research
Keyword research is an integral part of any SEO strategy. The purpose is to:
Find relevant keywords that users are using to search for businesses like yours.
Target the keywords that are the most viable for your business to rank for.
Develop strategies to help you rank for those keywords.
A common strategy is to use long-tail keywords—keywords with fewer monthly searches but clear intent and less competition—to build up your business on Google and other major search engines. From there, short-tail keywords—those with high volume and less clear intent—may be targeted.
That's just one example of a keyword strategy, however—an experienced SEO consultant will employ a variety of strategies, including leveraging AI-assisted tools, to find the right keywords for you to target.
On-Page and Off-Page Optimizations
The goal of any SEO campaign is to grow your leads and net you sales—and that's done by helping your rank better on the search engine results pages (SERPs). There are two common tactics to help you do this: On-page SEO and off-page SEO.
Your SEO consultant should give you strategies for both of these optimizations. On-page optimization relies on technical SEO, content building, internal linking, and other techniques. Off-page SEO relies on link building—especially when links to your competitors' pages can be diverted to your own pages.
Data Analysis
Digital marketing is all about analytics, and SEO is no exception. A professional SEO consultant will use a variety of tools to monitor the performance of your strategies and give your marketing teams access to these tools to improve the success rate of your campaign.
When Do I Need To Hire an SEO Consultant?
An SEO consultant may be a better choice than an SEO agency if you already have a digital marketing team, but you need a professional SEO expert to provide:
SEO knowledge
SEO strategies
SEO data and analytics
You may need a professional SEO consultant when:
Your Current SEO Strategy Isn't Working
Have you been writing articles, building links, and trying to land on the SERPs for target keywords—with no results? An SEO specialist may be able to help. They can perform an SEO audit to help you assess why your strategy isn't working and give your team SEO training to help you improve your strategy.
Customers Are Having a Hard Time Finding You on Search Engines
When you're not showing up in the search results, you may not be targeting the right keywords—or you may be getting outranked by your competitors. Most users don't move past the first page of search results—an SEO consultant can improve your ranking and help customers find you.
You're Too Busy To Handle Search Engine Optimization In-House
Every business has its core competencies, and every marketing team has its own specialization.
SEO takes years of experience to master—years that a worthwhile SEO consultant will have put in. You don't need to force your marketing team to do things outside of their job description to get results—an SEO consultant can help you stay competitive in the digital age without needing to hire a whole agency.
You've Been Penalized By Google
Google can penalize your site for any number of reasons—and unless you know what you're doing, those penalties can lead to your site getting blacklisted. When you don't appear on search results, it may be impossible for customers to find you—an SEO consultant can work to reverse these penalties.
Conclusion
SEO consultants play an important role in modern online marketing—they can shore up your existing team by offering strategies, tools, techniques, and training to boost your ranking on search engines.
Looking for an SEO consultant? Call First Rank today!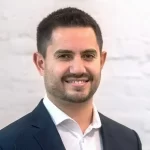 Jacob Kettner is the owner and CEO of First Rank Inc., a digital marketing agency based in Winnipeg, Manitoba. He currently sits on Manitoba Chamber of Commerce Small Business Advisor Council which assists people grow their small businesses in Manitoba.