Have you ever seen a "not secure" warning next to a website address bar? Whenever you see those two words, it means the website isn't secured with HTTPS, and as a website owner, that warning can be worrisome. The last thing you want is to host a site that isn't secure, and users are likely to avoid unsecured websites and pages. Security is essential, after all. 
If you aren't sure how to resolve the issue or don't know what it means, you don't have to stress. Throughout this article, we'll be discussing why the "not secure" warning has popped up on your website bar, how to fix it, and why using a secure connection is crucial. 
What Does It Mean?
Here's what you should know about unsecured websites:
HTTP Websites Aren't Secure:

HTTP (Hypertext Transfer Protocol)

is what you typically see in front of website URLs. It's a protocol used by the World Wide Web to transfer data from a web server to your browser to load and display web pages. However, websites that are HTTP aren't secure. Sensitive information, such as login passwords or personal information like credit card numbers could potentially get stolen by hackers. Most modern browsers will display a "not secure" warning in the address bar if the website is using HTTP instead of HTTPS. 

HTTPS Websites Are Secure:

Whenever you see a website URL with HTTPS (Hypertext Transfer Protocol Secure), it means the site is secure so you don't need to worry about hackers stealing important information. Popular websites like Google.ca use HTTPS to ensure all users are safe when browsing or purchasing products. HTTPS is encrypted, which means information cannot be stolen or tracked, and data can't be corrupted during transfers or authentications. Since 2018, Google has advocated for HTTPS sites and provided users with the "not secure" warning in the search bar. 
It's important to note that when you see the "not secure" warning, it doesn't mean that your site has been hit with a computer virus or malware. It simply means that your information on the website is not secure and that one should proceed with caution. 
Websites that don't utilize HTTPS are much more likely to rank lower on SERPs. As you may know, Google provides search results based on a variety of SEO-related factors, such as keyword targeting, domain authority, backlinks, etc., but one of the many ranking factors that can impact your SEO is website security. 
If your website isn't utilizing HTTPS, your rankings may plummet compared to your competitors. So remember, security is vital. 
How To Fix an Insecure Website?
If you want to learn how to make your website secure and help improve your SEO rankings, you've come to the right place. Adopting HTTPS is not a difficult process, but it may require a few different options to ensure your site is secure. 
SSL Certificate 
Installing a secure sockets layer (SSL) certificate can help your HTTP site get the security it needs. When you install an SSL certificate, a few changes will happen to your website:
Your browser will connect to a website and request the server identity.

The server will send an SSL certificate to the browser. 

The browser will identify whether the SSL certificate is trustworthy. 

If the SSL certificate is trustworthy, it will send a message to the server.

The server will provide a digitally-signed document that allows permission to start a session with encryption from the trusted SSL certificate.  

The browser and server will both share the encrypted data.
SSL certificates can provide security for your servers and web browser to ensure data is passed along privately. 
Ensure All Site Links Use HTTPS
If you're using both internal and external site links and want them to continue operating, you should ensure they're changed to HTTPS instead of HTTP. In the end, it will only help your website find success instead of hurting its rankings.
Verify Your Website
Once you've installed your SSL certificate and your site links are all using HTTPS, you should verify the HTTP and HTTPS versions of your website in the Google Search Console. During this process, you'll want to set your preferred domain to the HTTPS version, as it will ensure all website users or visitors are accessing the secure version of the site. 
Redirect HTTP URLs
You'll want to create 301 redirects for your website to ensure your HTTP URLs reference the HTTPS version. Why? Because if you mention your website on a third-party site you have control over, you'll want it to mention the HTTPS instead of HTTP. 
Update the XML Sitemap 
Update your XML sitemap so that it references the HTTPS versions of your web pages. A sitemap acts as a road map for users or search engines to navigate your website with ease. Updating your sitemap in Google Search Console can help the search engine crawl and index your site. 
Why You Need a Secure Website
Insecure sites can cause users to leave your website, which can impact your rankings and bottom line. It's simple: If a user doesn't feel confident or safe using your website, they won't purchase your products, inquire about your services, or offer up any personal information. 
Many features are restricted to HTTPS websites, such as Google's Accelerated Mobile Pages (AMP), which creates basic versions of your web pages by making them load quicker for mobile browsers. If you want to use AMP, your website will have to use HTTPS.
As well, most browser features don't work with HTTP websites, such as push notifications, web payments, geolocation, and more. 
There are a handful of reasons why you should secure your website:
It Can Impact Your SEO
Search engines like Google penalize websites that aren't secure, and part of the penalization is that your site won't rank as well as it could if it used HTTPS. Since HTTPS is a ranking factor for SERPs, your HTTP site may never see the light of day. The policy is part of Google's effort to make the internet more secure for users. Since it can impact your rankings, there won't be much chance of increasing your web traffic. 
The Warnings Can Affect Your Website 
As mentioned, the "not secure" label can deter users from visiting or perusing your website. To them, the warning is an indication that your site isn't secure enough. This warning can reduce their confidence in the site and in your brand. Any websites that don't have an SSL certificate will get flagged with the "not secure" warning in Google Chrome. 
While some website owners may be okay with this, it can seriously impact your success if you're trying to sell products or services. Showing that your website can be trusted will build confidence in your brand. 
Sensitive Information Is at Jeopardy 
Without an SSL certificate, you can't provide users with the security they deserve. When your website isn't encrypted, there's a chance that sensitive information can get exposed or stolen, such as passwords or payments details. The best way to offer a safe experience to your users is to ensure your website is secure and enable HTTPS. 
Your Website Could Get Blacklisted
Google blacklists thousands of suspicious websites every day. You may have come across one of these suspicious sites by seeing "this site may harm your computer" displayed in the search results. It acts as a warning for users to stay away, which can happen if your website isn't secured. If your website becomes blacklisted, you can lose organic traffic which can negatively impact your revenue. 
Is Redirecting a Website to HTTPS Difficult?
You may think that redirecting your HTTP website to HTTPS is a difficult process. We're happy to share that it's quite simple. Once you've obtained an SSL certificate, you can make changes in your CMS settings by selecting "force SSL on all pages" and setting your pages to the HTTPS versions. 
That's it. You did it! 
Conclusion 
Is your website secure? Perhaps it isn't mobile-friendly, accessible, or doesn't have optimized content. These are just some of the few factors that can affect your SEO. No matter how hard you try, you may not see any changes in your rankings. That's where you can rely on us at First Rank to provide a website audit. Our talented team can identify potential issues impeding your SEO efforts and offer effective solutions to get your site ranking at the top of SERPs. 
Contact us today to learn more about how we can help.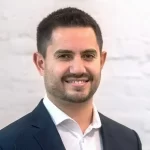 Jacob Kettner is the owner and CEO of First Rank Inc., a digital marketing agency based in Winnipeg, Manitoba. He currently sits on Manitoba Chamber of Commerce Small Business Advisor Council which assists people grow their small businesses in Manitoba.