You probably know that keeping your Google Business Profile (GBP) current, responsive, and optimized is vitally important to your business's online visibility and overall success.  That being said, you may have questions about exactly how to harness your GBP's full potential.  
Many businesses choose to outsource the management of their GBP and strategically share access to it with marketing freelancers or agencies, in addition to specific members of their own team.  At First Rank, accessing clients' GBPs is a crucial element of our SEO work.  
Below, we've provided an overview of GBPs and their importance, the reasons why businesses may choose to share access to them, and step-by-step instructions on how to do so.  
For more information about GBPs and SEO, contact our team at First Rank directly.  
What Is a Google Business Profile?
A Google Business Profile (GBP), formerly known as Google My Business (GMB), is a free tool that allows you to create a customized profile for your business.  Appearing in Google Maps, Google Shopping, and Google search results, it includes information such as your business's location, contact information, website, and hours.  It can also include reviews, photos, and updates while providing an interactive platform for customers to connect with your business.  
The Importance of Google Business Profiles
A strong GBP increases online visibility for your business, improves SEO, and helps to build and retain customer trust and loyalty.  The benefits can be tremendous when accurate, up-to-date business information and reviews appear for your business in organic customer searches.  
Properly optimizing your GBP involves the following (not an exhaustive list):
Claiming and verifying your business with Google

Uploading high-quality images

Receiving and responding to reviews

Adding attributes (wheelchair accessibility, Wi-Fi, etc.)

Keeping information current and updated

Linking to your website
Why Share Access to a Google Business Profile?
You may choose to share access to your business's GBP for many reasons.  These may include:
In-house teamwork and delegation of tasks

Outsourcing marketing to a third-party

Providing autonomy to managers of different locations (for businesses with multiple locations)
Sharing GBP access can be a savvy decision that results in positive outcomes for your business, but be careful to only do so with forethought, discretion, and attention to detail.  
Best practices for sharing GBP access include:
Only share access with trustworthy sources who've been properly vetted and have a valid reason for needing it.

Be cautious about sharing "

Owner

" privileges if "

Manager

" privileges will suffice.  (Parties with "

Owner

" privileges have the ability to add and remove other users at their discretion.)  

Be meticulous about removing access privileges for those who no longer require them.  
How To Request & Grant Access
You've decided to share access to your GBP, but how do you actually make that happen?  Let's take a closer look at the steps involved:
Sharing Access to Your GBP
Sign into your GBP listing at

https://business.google.com

and select the location you wish to share access to.  

Click the three dots in the top left corner of your GBP and select

Business Profile Settings

in the pop-up menu that opens.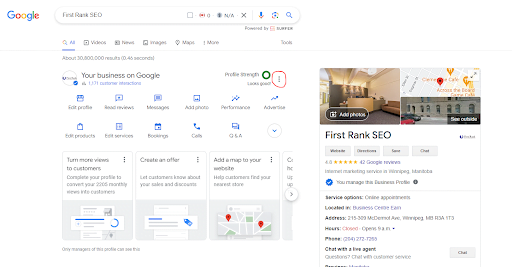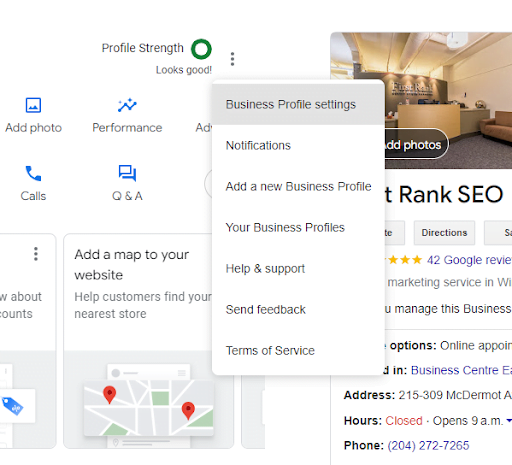 That will open another sub menu. From there, Select

People and Access.



Click

Add

, then enter the email address of the new user you wish to add.  Select the role of the new user (

Owner

or

Manager

) and click

Invite.


Here you can view all users who have access to your GBP and also remove users as necessary.  
Select the role of the new user (

Owner

or

Manager

) and click

Invite.



The new user will receive an email inviting them to accept access to your GBP.  
GBP Sharing Notifications
If a GBP profile is shared with you, you will receive an email notification like the one below.  Click Accept to gain access and begin managing the profile.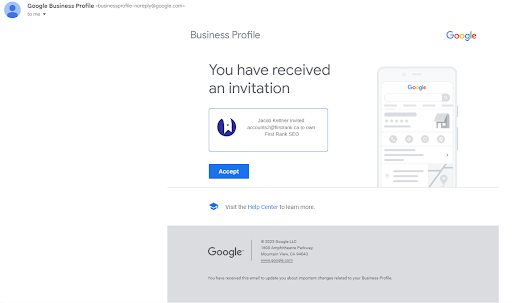 To learn more about effective management of your GBP and other important elements of SEO strategy that can positively impact your business, reach out to us directly at First Rank SEO today!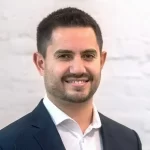 Jacob Kettner is the owner and CEO of First Rank Inc., a digital marketing agency based in Winnipeg, Manitoba. He currently sits on Manitoba Chamber of Commerce Small Business Advisor Council which assists people grow their small businesses in Manitoba.