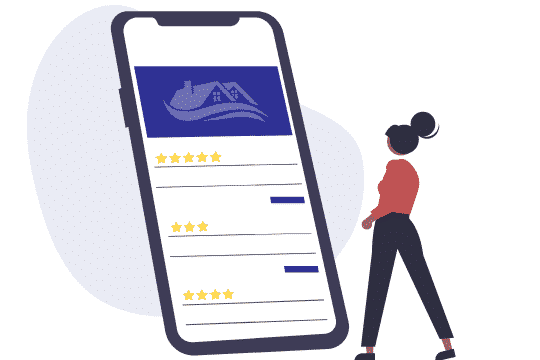 Have you ever wondered what people say about you online?
If you own a business, then you might already know. Your company may have reviews on several platforms, from Yelp to Google My Business. You're aware that your star rating impacts your sales, but just how important are reviews?
What customers say online is more visible than you might think. According to a survey from 2020, 87% of consumers read online reviews for local businesses.
That's why your company needs to gain control over your online reputation. 
The question is, how do you do it? It seems like all you can do is provide your customers with the best products and services that you have to offer, and hope for the best—right? 
Actually, there are a few other ways that you can manage reviews. Let's go over how you can effectively manage your online reputation:
Encourage Customer Feedback
After a client has a great experience with your business, you have an opportunity to reach out to them and score a positive review out of it. Using their email, ask them to consider leaving feedback. Explain to them that reviews help your business a lot, and that customer feedback is important to you. Make it easy for them to leave a review by attaching a link to your GMB listing or Yelp page.
Respond to Reviews
When you read a positive review, don't just pat yourself on the back—write a response! This practice is good for a few reasons:
It shows clients that you care.
If you read a review but fail to respond, customers will wonder if you pay attention to their feedback. A simple acknowledgement goes a long way in showing that your company listens. If the review included any criticisms, writing a response shows that you are receptive to feedback.
It's a Google trust factor.
Trust factors measure how authoritative a website is—the more trustworthy your site is, the higher you'll rank in search engine result pages. Responding to reviews is one of the many trust factors that Google employs to gauge the authority of a site.
When a customer leaves you a glowing review, be sure to acknowledge it! This will build brand loyalty. But not all reviews are positive. It can be tough to draft a professional response to a negative review. Here are some tips for a proper reply:
Show that your business is attentive by drafting a response ASAP. The sooner you reply, the better. 
Be empathetic toward their concerns.
Make sure that you aren't dismissive of criticism. Despite how the negative review might make you feel, it's important to acknowledge what the customer is saying. Rather than make excuses, explain how you will address the problem.
The review might be negative because of an issue that the customer encountered. Maybe they had to wait too long to receive service or perhaps the product didn't meet their expectations. Write in detail about the actions you will take to prevent this problem from happening again.
Encourage them to contact you. 
At the end of your response, offer to continue the conversation offline. Provide your phone number or email address so that you can communicate with the customer directly. This gesture demonstrates how committed you are to solving the problem; it shows that you want each customer to have a great experience with your business.
Writing a considerate and empathetic response to a negative review may persuade the customer to edit their initial write up. It shows other clients that your business manages issues when they arise, rather than ignoring the concerns of their customers. All in all, it's an essential part of managing your online reputation. 
Flag Fake Reviews
Have you ever received a review that was just plain suspicious? While it may have been a customer who had a bad experience, part of your brain wonders if it's your competitor, trying to tarnish your reputation. If this happens, what can you do?
Google allows you to flag reviews that contain misleading information. There are a few categories that the review may fall under: discriminatory, violent, spam, or conflict of interest. If the review meets any of these criteria, consider flagging it. 
Use Review Management Software
Managing your online reputation is a lot of work. How do you stay on top of it when you have a business to run?
Review management software is just what you need. This application can help you manage your reviews as they come in. You'll be alerted the moment a new one is posted so that you can respond promptly. If you receive a negative review, you'll have the chance to address it before it's posted online.
There's a lot that goes into managing a business. But these days, your online presence plays an increasingly bigger role in your success. To achieve a high star rating and boost your visibility online, keep these practices for review management in mind.