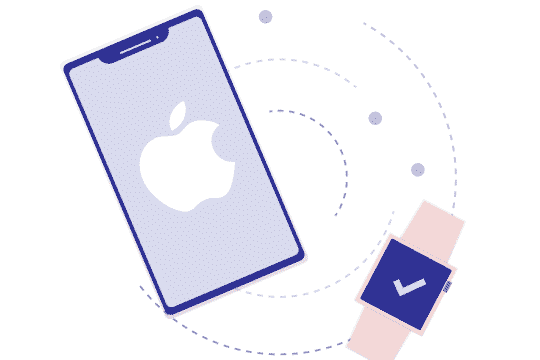 What's the best way for customers to discover your business?
It's for them to find you when they're actively searching for your services. To do that, your business needs to have a listing on the most popular websites.
You can't underestimate the impact that your online presence has on your business. Without one, customers simply won't hear about you. How do you build your brand's reputation and share vital information with your client base?
It all starts with a profile on a business directory. 
Here's the good news: creating a listing on Apple Maps is completely free. It just takes a bit of time and know-how. It's important to create or claim listings on these sites for several reasons:
To correct misinformation 
Customers will become frustrated if your listing has false information. Inaccuracies will reduce your trustworthiness and damage your reputation.
Increase your visibility in search results 
Securing the top spots in various search engines is tough. But having a claimed and verified listing can help you reach the top of the results.
Share details about your company with customers 
A business profile is a convenient and accessible way for clients to learn more about your business. It compiles all the most important information into one location, from a company description to your phone number.
Many businesses create listings on Google, but what about Apple Maps? We're here to help you get started on these platforms. Let's dive into how you can create and optimize your business listings on these directories:
Setting up Apple Maps
One thing you can say about many Apple fans is that they're loyal to their brand. You're missing out on a demographic of tech-savvy consumers if you aren't listed on Apple's platform. Given that Apple is in the process of creating its own search engine, they might give Google a run for their money in the coming years. 
Every iPhone has Apple Maps installed by default. Whenever users look for businesses on Siri, the results are pulled from Apple Maps. This means that most iPhone users are likely to use Apple Maps at some point. We're going to walk you through the steps of setting up a listing on this platform:
Make An Account
Before you get started, you'll need to make an Apple ID. Most iPhone users already have one, but if you don't, you can create one here.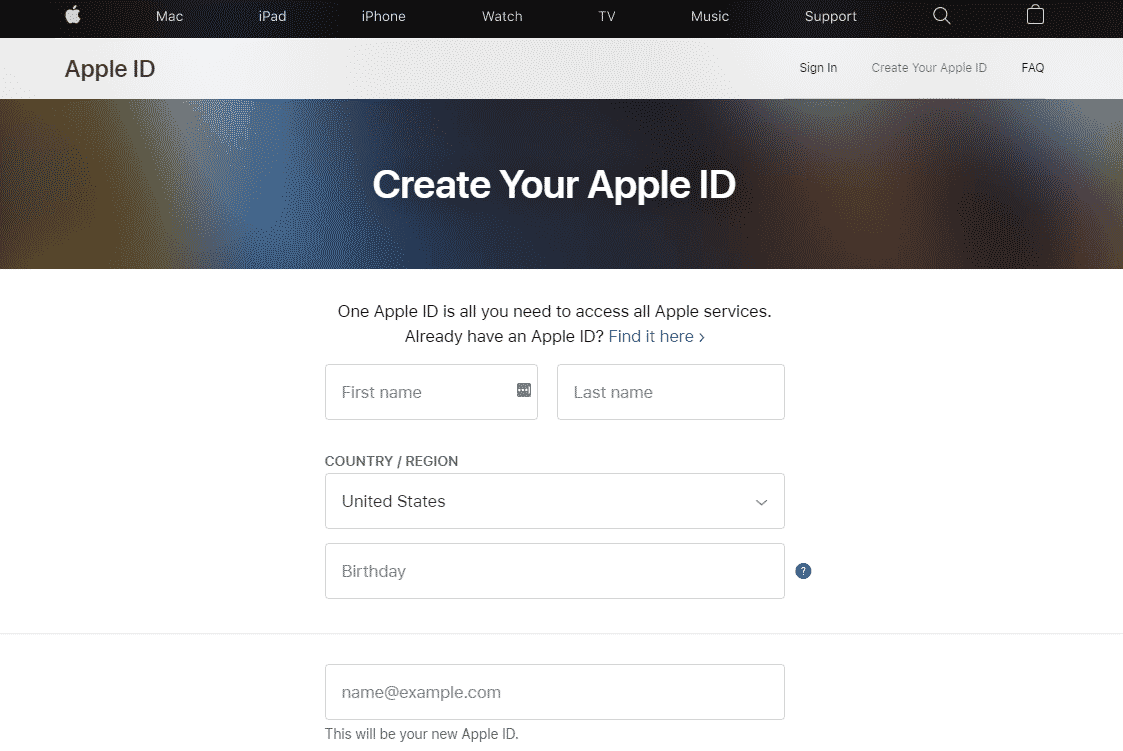 To create an account you will require basic information such as your name, email, and phone number. Once you have completed this form you will need to verify your email address. It is important that you choose an email that is easy to access.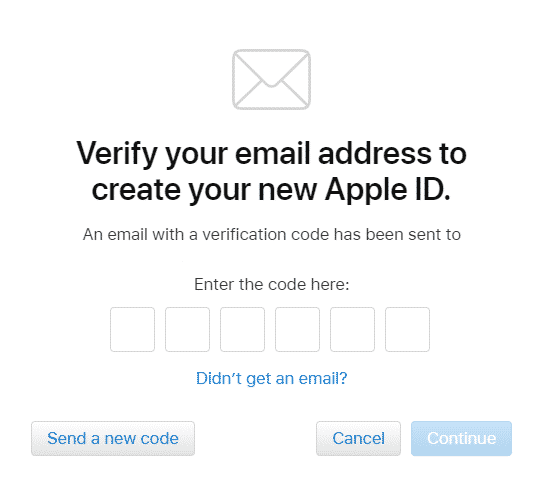 Once you have verified your email, you will be prompted to verify your phone number. This can be done by sending a text or call to the provided number.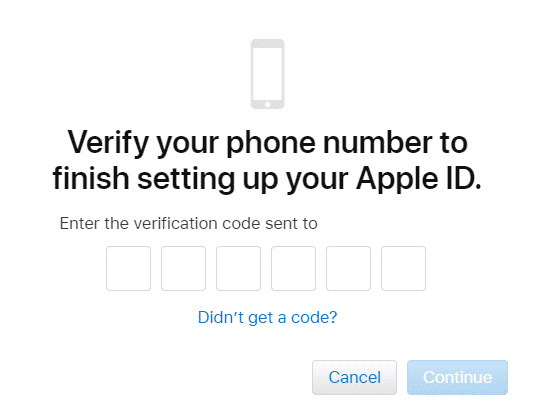 Search For Your Business
Once you have signed in to your Apple ID, go to https://mapsconnect.apple.com/ to start creating or editing your listing. Start by searching the name of your business. If a listing appears, select the option that reads "I'm the business owner" or by clicking the listing that appeared.
If nothing shows up, you'll need to make your listing from scratch—select "Add new place". 
When we searched for "First Rank", we found this listing (see screenshot below). All you need to do is click the listing.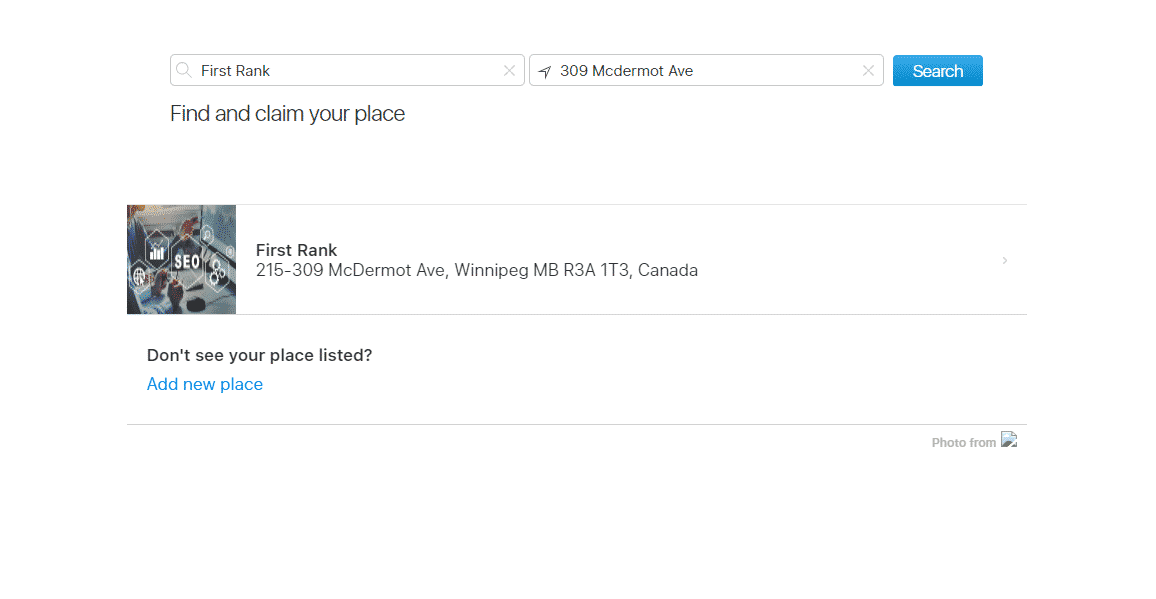 Review and Add Your Information
In this step, you'll provide your address, phone number, category, and business name. You can also add your website URL, social media accounts, and whether you accept Apple Pay. It is important to make sure that all information is correct and matches what is on your Google My Business listing. Once everything is filled out you can click "Claim This Place".
Verify Your Listing
In order to claim your business, you will have to verify your business's phone number. Verifying an Apple Maps listing is simple: provide your phone number and wait to receive a call. Enter in the verification code and you're ready to go!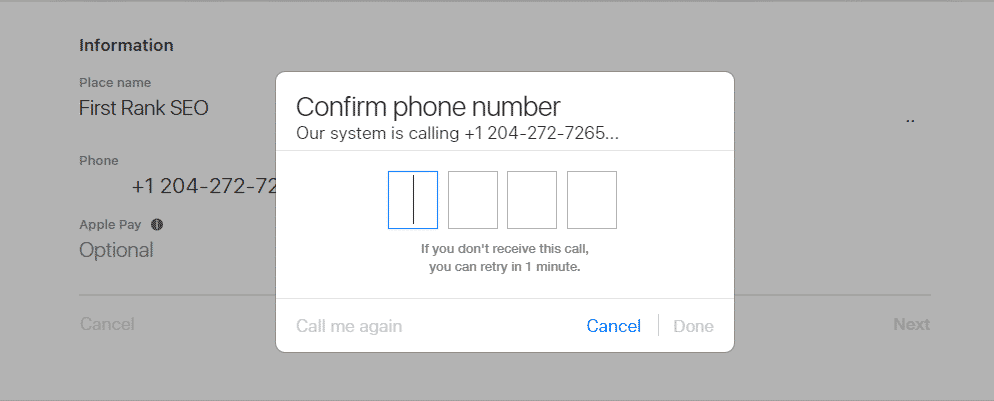 Once you have verified your phone number, you will be able to review your listing again. If all of the information looks correct, you can go ahead and click "Submit For Review"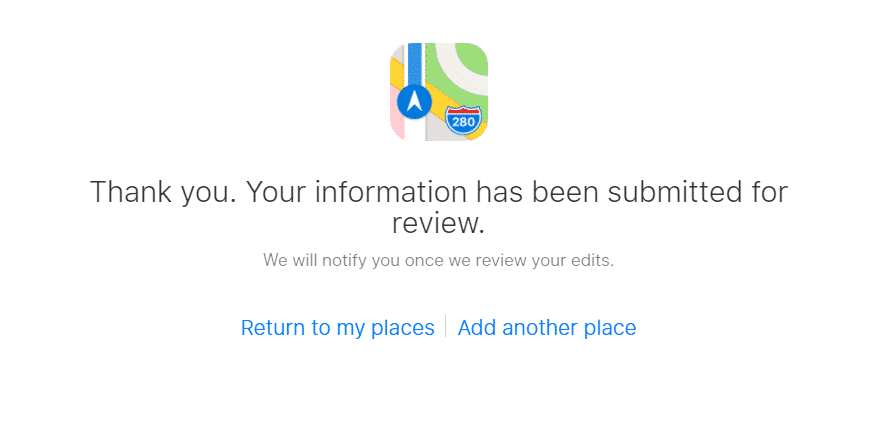 You will receive a confirmation email which states that Apple has received your updates and your listing is pending approval.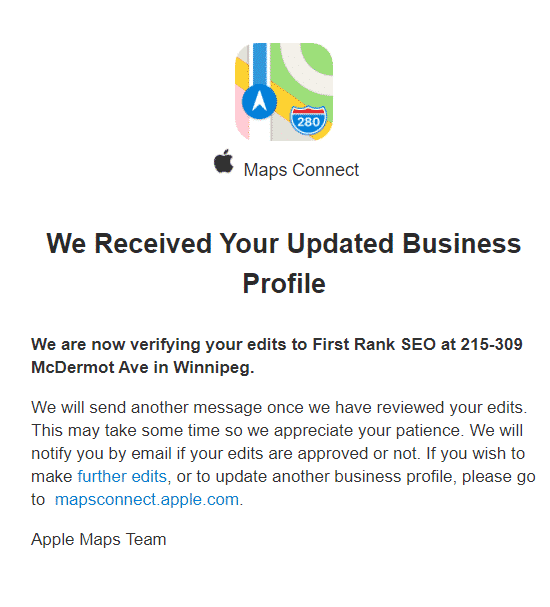 Once you have received this email, you are good to go! Your Apple Maps listing is now complete and claimed.
How you market your business plays a pivotal role in its success. You'll start reaching more customers when your business is listed on Google, Bing, and Apple Maps.
Not everyone uses the same search engine to find local businesses. To reach a wider range of clients, make sure your business is optimized everywhere that potential clients are searching. If you have any questions feel free to reach out to the team at First Rank. You can contact us by calling 204-272-7264 or by filling out our contact form.