You've likely come across SEO and SEM at some point during your marketing endeavours. While many people confuse the two for one another or use them interchangeably, each are separate marketing channels businesses can use to reach their customers on search engines like Google, Bing, etc. 
Understanding the difference between SEO and SEM can help you determine your marketing tactics, like driving traffic to your website or increasing your visibility online. That's where Search Engine Optimization (SEO) comes in. However, SEO can be a difficult strategy to maintain without also implementing Search Engine Marketing (SEM) efforts. 
To use SEO and SEM together, you must know what both methods accomplish and how they can help your business become more successful on search engine results pages (SERPs). 
Throughout this guide, we'll identify both approaches and help you understand their capabilities. 
Understanding the Two
Understanding the terminology is the first step in implementing SEO and SEM efforts. The last thing you want is to confuse the two and hinder your chances of propelling your online business toward success. 
Let's look at the two pillars of the marketing industry:
SEO:

Uses organic methods to help businesses appear on search engine results pages

SEM:

Uses paid methods to help businesses appear on search engine results pages 
As you can see, the differences are quite simple. SEO derives from organic search, while SEM involves payment. In many cases, SEO is an umbrella term that includes SEM strategies. 
Most consumers search online for products to purchase. Having a strong online presence and using paid results are pivotal to boosting your visibility. 
Let's take a deeper dive into each strategy. 
What Is SEO?
Search engine optimization (SEO) is a method that involves optimizing your website to achieve a higher ranking position in organic, non-paid search engine results pages. Search engines, like Google, use many ranking factors in their algorithms, meaning quite a lot of work must be done when optimizing content. 
Four core categories of SEO can help with ranking:
Technical SEO

On-page SEO

Off-page SEO

Great content
Technical SEO
During technical SEO, you'll want to ensure that search engines can easily find, crawl, and index your content. You won't find much success ranking on Google if the search engine can't identify your content. 
For example, if you've blocked search engines from crawling an article or blog post, they won't be able to identify what's on your page to determine what your content should rank for. 
You'll want to make sure your web pages load quickly and that your site architecture is properly set up. These additions can help search engines crawl your website. 
On-page SEO
On-page SEO is all about creating content that audiences want to see, which includes understanding what keywords to target. Keyword targets are essential in helping search engines understand your content. 
Giving searchers what they want is crucial. That's why you should align your content with the researcher's intent.
For example, a customer looking for a massage therapist will likely search "massage therapist in (city of origin)" or "massage therapists near me." With these types of searches, it's clear that the customer wants effective results. If you're trying to get your massage therapy studio ranking higher on SERPs, you'll want to craft content and use keywords that help consumers find what they're looking for and search engines understand where to rank your website. 
That's why search intent is so critical, although it isn't the only aspect that matters for on-page SEO. 
Some other important factors include the following:
Creating a captivating title

Strategically placing keywords 

Optimizing images

Using descriptive URLs

Including meta descriptions

Implementing headings 
Off-page SEO
Off-page SEO is where you build authority by using tactics outside your website to show search engines that your web page deserves to rank higher. Executing link-building efforts is an effective off-page method because backlinks are one of the key ranking factors. Why? Let's say you acquire backlinks from other popular websites similar to yours. By including those backlinks, you're showing Google that other high-ranking websites are legitimizing your content, which can provide more traffic and ranking power for your site. 
But backlinks aren't the only important off-page SEO factor. Reviews, press releases, and other similar tactics can also impact your ranking position. 
Content
Content just so happens to be one of Google's main ranking factors. Without exceptional content that matches search intent, you'll find your website struggling to rank. Quality content can increase your CTR (click-through rate), generate backlinks, and provide an impeccable user experience. A well-thought-out strategy can ensure that your content goes beyond the writing stage. 
What Is SEM?
Search engines rely on paid tactics to retain search visibility on search engines. SEM is also often referred to as PPC (pay-per-click). Instead of implementing strategies that help websites rank organically, PPC is a way to advertise on platforms, such as Google Ads or Bing Ads, and use those formats to get in touch with your target audience. 
Pay-Per-Click
PPC advertising involves the following:
Keyword Research:

It's integral to figure out what customers are searching for when doing keyword research for ads. This may entail comparing which keywords cost more than others and determining if the CPC (cost-per-click) is worth it.

Bidding:

There's a fair amount of bidding involved in SEM. This is where you decide how much you want to pay for an ad click. You may have competitors who are trying to outbid you. If your competitors are successful and have more relevant ads, search engines like Google won't show your ad as often as you like, meaning you won't get the clicks you want.

Ad Creation:

Quality scores are important with Google. The creation of your ad must be relevant and useful to what you're trying to showcase. Ads with high-quality scores are more likely to be seen by more potential customers. 

Audience Targeting:

You need to decide who you want to see your ad. You'll have to target people based on a variety of factors, such as who they are, what they like, where they're located, etc. 
SEM Campaign 
During a search engine marketing campaign, you must determine what you want to target. 
For example, many campaigns include:
Search ads

Shopping ads

Gmail ads

YouTube ads

Display ads
With so many formats available, you can reach your audience on a wide scale. When a user searches for specific terms that your ad includes, they're likely to see a custom ad at the top of SERPs or a shopping ad while perusing the web. Anytime your ad gets clicked, you'll pay for it. 
Benefits
While it can take anywhere from a few weeks to many months to get results, SEM is one of the best ways to drive traffic and increase your click rate. With SEM, you can control when your ads show and to whom they appear. It's a useful way to experiment with new strategies, drive search traffic to your sales, and more. 
To get the most benefits from SEM, you should use it in tandem with your SEO efforts to improve your online visibility, organic traffic, and conversions from search engines. 
What Are the Differences?
Both SEO and SEM have their differences, which is why we're going to look at what separates the two:
You pay for every click with SEM:

As an advertiser, you'll have to pay the cost-per-click depending on the ad campaign you have set up. You won't pay anything when a potential customer clicks on an organic listing that has ranked because of your SEO strategy. 

SEM can provide faster results:

You'll be able to see results after a few clicks during a live paid advertising campaign. You may notice your ads show up in search results if your bids are sufficient and the ads themselves are approved. With SEO, it can take more time to see significant organic results. 

SEM can identify marked ads on SERPs:

Through SEM, you can identify a paid placement in SERPs due to the ad icon, which isn't included in organic listings. With paid ads, you can offer further extensions that allow you to showcase site links, phone numbers, and much more. While organic rankings offer rich snippets, ad extensions allow you more control over how you want the ads displayed. 

SEM is easier to refine:

You can quickly revise your ad copy, reach new audiences, and change your landing page. All of that can be done much faster, whereas SEO can require more finesse due to the nature of search engine algorithms. 

SEO offers cumulative results:

SEO can provide continuous value over time. Your SEO strategy will only improve and, if crafted carefully, will leave lasting results. With SEM, your investment will disappear as soon as the ad comes down. 
What Are the Similarities? 
As we mentioned earlier, both SEO and SEM have similarities, which is why many people confuse the two. We'll highlight the similarities to help you obtain a clearer picture of where the two channels are similar:
Improve website visibility:

The two channels can help your site show up on SERPs by optimizing and targeting keywords. 

Use keyword research to target relevant keywords:

Both strategies require keyword research to understand the competition's targets. 

Drive traffic:

SEO and SEM are similar in the sense that they help drive more traffic swaying users to click through to your website. The only real difference is that one is paid, and the other is organic.

Help you understand your audience:

The data from both methods can help you understand your audience and plan a successful marketing campaign.

Require ongoing testing/optimizing:

Both need to be actively monitored to ensure you deliver a successful long-term ROI (return on investment). 
Which Option Do You Use?
Choosing between SEO and SEM efforts will depend drastically on a variety of factors, such as:
Your Goal:

If you want to generate traffic quickly to a specific sale, test out a new offer/service, or increase interest in your business, SEM is a clear choice. However, if you're searching for long-term progress, then SEO may be the preferred option. 

Your Performance:

If your organic search results are already high, SEM would be a beneficial way to provide extended visibility. 

Your Margins:

Information regarding click costs and low product margins should be considered before deciding to run with an SEM strategy. SEO can provide more potential for returns on your investment. Look into estimating the CPC costs to identify what conversion rates you'd need to profit. 

Your Customer Lifetime Value:

With SEM, the higher the LTV (customer lifetime value), the higher the click costs. With a lower LTV, SEO may be a smarter and stronger strategy to test out. 
Why Not Both Methods?
The integration of both SEO and SEM methods is the smartest move to make when creating a marketing strategy. 
With both channels combined, you can access a wide array of opportunities to increase your website traffic, potential customers, and the success of the business. Remember, many customers are searching the web for a business just like yours, and the key is to use both SEO and SEM to attract them. 
Pairing SEO With SEM
When combining SEO and SEM strategies, you're opening the door to a wealth of opportunities. For starters, data from your SEM plan can strengthen your overall SEO strategy, including receiving valuable information regarding conversion rates, keyword performance, traffic opportunities, and so much more. 
In addition, you can use your SEO efforts to create "remarketing" campaigns for your SEM strategy. How? By reaching those whom you couldn't convert into customers by targeting them with search and display ads. 
Those are just some ways you can pair SEO and SEM methods. Remember, SEO is good for organic traffic, while SEM thrives on targeted ads you must pay for. The two strategies complement each other well as long as your website is SEO-friendly. 
For websites on the newer side, try a PPC campaign first to get your company's services and products out there. It may be much harder for SEO rankings to solidify if you're just starting, but that doesn't mean you should give up on SEO altogether. 
Moreover, try to keep an eye on what your competitors are up to using reliable SEO tools that can provide insight into their advertising strategies/SEO performance. 
Some tools include:
Organic research

Keyword gap

Position tracking

Backlink analytics 
These tools can help identify what your competition is ranking for organically, and then you can craft a plan that will move you up on SERPs and move them down. The more information you can obtain from your competitors, the better your marketing strategy can be. 
Conclusion
SEO and SEM strategies can yield positive results, but that's if you know how to use them, and more often than not, people confuse the two. That's why it's essential to understand their purposes and what you can achieve with both methods. 
To ensure you get the most out of your SEO and SEM efforts, get professional help from an SEO service in Canada. Our team at First Rank provides a collection of effective services that can increase your search engine rankings, rope in more website traffic, optimize your content, and much more. Contact us today to begin your next SEO marketing strategy.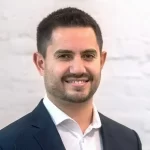 Jacob Kettner is the owner and CEO of First Rank Inc., a digital marketing agency based in Winnipeg, Manitoba. He currently sits on Manitoba Chamber of Commerce Small Business Advisor Council which assists people grow their small businesses in Manitoba.