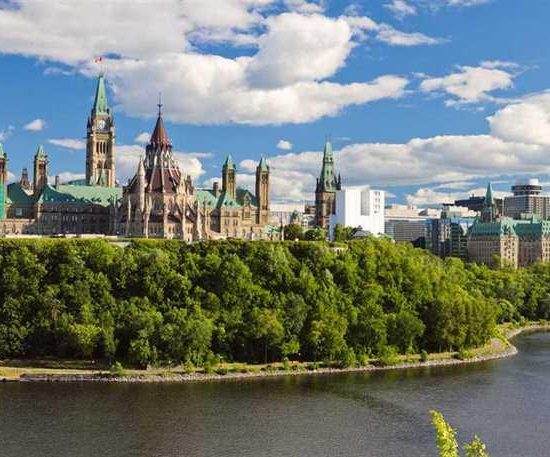 Ottawa is the city where many Canadians dream of living: it's an affordable place to call home, with a low crime rate and plenty of green spaces. It's easy to get around this expansive city due to its transportation systems—there are railroads, rapid-transit buses, and major roads in convenient locations. If you prefer to cycle, you'll have a blast biking around Ottawa on The Capital Pathway. The sights in this capital city are inspiring, from Parliament Hill to the National Gallery of Canada. Ottawa is also the birthplace of well-known Canadian artists like Margaret Atwood and Alanis Morissette. With over a million residents, there are plenty of business opportunities. But how can consumers find your company when there are so many competitors out there? 
People in Ottawa are educated; half of its adult population have college degrees, and one in four citizens are employed in fields of creativity, computing, technology, or knowledge processes. To set yourself apart among other entrepreneurs, you need to take advantage of any tools you can. One way to make your company easier to find online is by setting up a Google My Business listing. 
How To Set Up A GMB
A GMB starts with a Google account; sign into one if you've already created it, or register a new one. Then, visit google.com/business and start managing your business with a GMB account. It will ask you for basic information like your name, website, and address. After this account is set up, you can either create a Business Profile or claim an existing one—search for your business on Google, and if a listing comes up, request to claim it by clicking "Own this Business?"
Before you can start making changes to your GMB, Google needs to verify that you are who you say you are. They do this by sending a verification code to your business address, email, or phone number. For businesses with 10 or more locations, you are eligible for bulk verification. Once your business is verified, only you will be able to change the details of the GMB. 
Now that your listing is created, claimed, and verified, the next step is filling it with information. It's worth spending the time to make sure your Business Profile is detailed and accurate. Correct information is key, or else 80% of customers will lose trust in your business. Optimizing your listing means adding as much data as you can; post 360° photos, categories, tags, frequently asked questions, and a link to your website.
Will A GMB Benefit Your Business?
A customer can't buy from your business if they can't find you in the first place. Google revealed that companies with GMB listings compel consumers to be 70% more likely to visit those businesses. Since most people use Google for search inquiries, it's crucial to be listed on Google My Business. 
How will a GMB listing help your business? It tells consumers the information they want to know. If they look up your company to find your hours, address, or phone number, but  data is missing or incorrect, they'll move on to your competitor instead. They might be looking for your company because they want to leave you a review, which is another important feature of claiming your GMB listing. Many consumers (roughly 82% of them) look at online reviews when researching products or services, and that can significantly impact whether or not they choose your business. The more positive reviews you receive, the better your online reputation will be.
Lastly, a GMB can improve your rankings in local search results. SEO, or search engine optimization, aims to put your website in the top spots of result pages. You might think to yourself, what about Google ads? These are placed above organic search results, but because they are labelled as sponsored ads, they are ignored by 70-80% of users. When your website is listed first for targeted search queries, consumers who are ready to buy will be able to find your business; that's why SEO leads have a close rate of 14.6%. 
Looking for seo services in Ottawa? First Rank can help; we are SEO specialists. Because Google's algorithm is constantly changing, you need someone in your corner to stay on top of new updates so that you can stay ahead of your competition. Part of our SEO package includes managing and updating our clients' GMBs. Contact us today to learn about how we can take your Ottawa business to the first page of search results.