A Comprehensive Guide to Local Business SEO in 2023
Do you want to surpass local competitors on search engines, get new clients, and improve visibility in your community? Read on.
We like to say SEO (search engine optimization) is part art, part science. Here, we're going to focus on the science part. That means stats. Here are a couple:
88% of all local searches on a mobile device end in a call or visit to that business within 24 hours.

92% of searchers pick businesses on the first page of search results.
Those are some nice stats. Want more? You got 'em. (16 in total!)
You're about to dive into one of the most comprehensive local SEO guides you'll ever find. It's complex stuff, but we've made it as simple as possible. Follow these steps, and you'll start ranking better than most of your competitors – a lot of people don't even know what SEO is!
Need a quick rundown?
Local SEO Tips
Optimize for Google My Business and get Google Reviews.
Create a guide for your internal linking structure.
Optimize your URLs, title tags, meta descriptions, and heading tags.
Create local content to help your SEO.
Make your website mobile responsive.
Create citations.
Ensure your local name, address, and telephone number are consistent.
Acquire links from other websites in the form of guest posts.
Spend time doing proper keyword research.
Submit your sitemap to Google Search Console.
There's a lot more to cover. Want to jump to a particular topic? All the info is below; click on what interests you:
SEO is all about getting your business to rank highly on search engines when people search for relevant terms and keywords. Local SEO, then, is SEO that's targeted to the area you serve. 
When your business serves a particular community, you need local SEO.
Most SEO strategies focus primarily on Google, because Google dominates the mobile market and has a massive share of the overall market. That said, if you neglect other search engines, you'll lose out on some clients. Excellent SEO strategies help optimize for all search engines.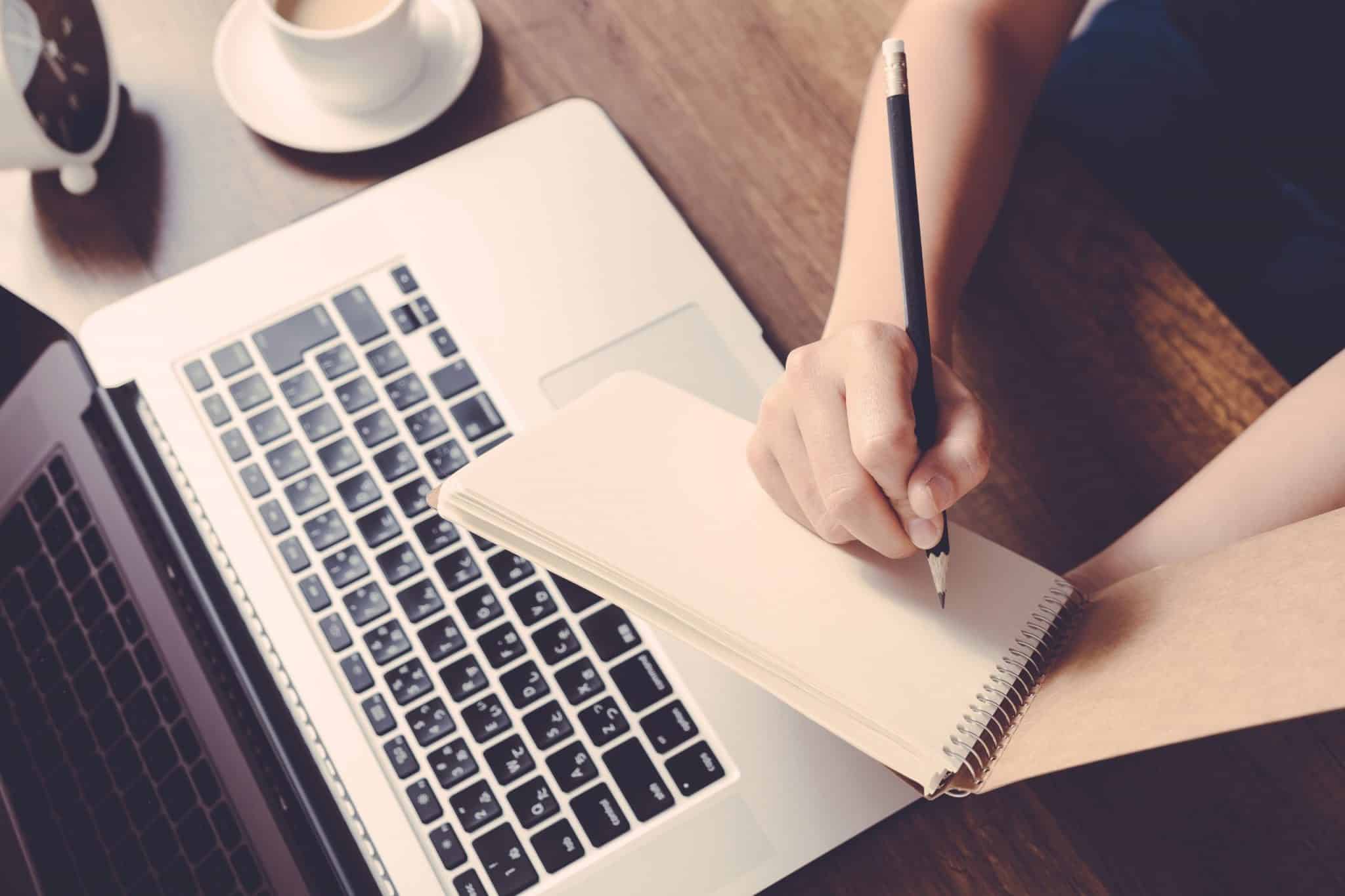 Local SEO Ranking Factors

For much of this guide, we'll be focusing on how to improve a number of ranking factors, inspired by this Moz post.

We're going to focus on the top 5 ranking factors mentioned there. Keep in mind that these factors are sourced from a number of SEO professionals – search engines don't exactly tell us what factors affect ranking and to what degree. 
Take a good look at those factors. You might not understand them all – that's okay. They all do a lot more than just boost your ranking in search engines; they'll help you improve your overall presence online.
Let's do a Google search for "coffee shop near me" – something any writer needs for a long day of typing.
Look at that lovely grid that popped up! Google Maps gives me 3 locations where I can grab a cup of java, complete with name, address, and a nice picture. When there's a shop that's closed or closing soon, Google lets me know that, too.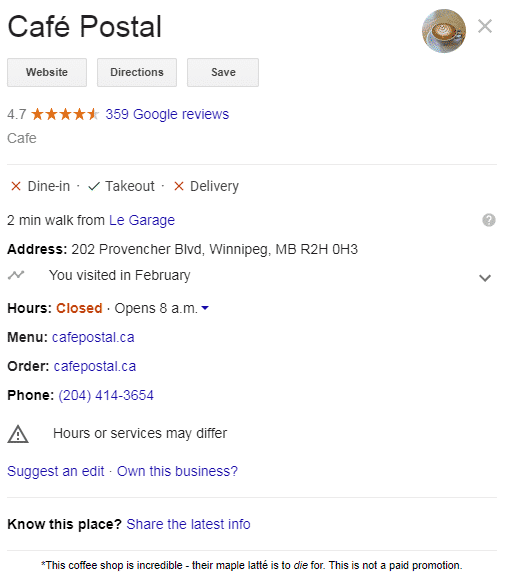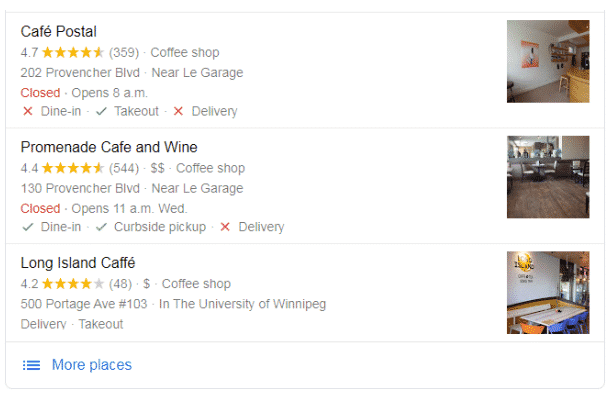 3-Pack
This is known as a 3-Pack (sometimes called a Snack Pack). Ranking in these packs is essential to local SEO. The pack comes up before normal organic results. When you click on any of the three, Google gives you a number of call-to-actions, which promote further interaction with that business.
Putting energy into ranking on these 3-Packs is very worthwhile. To do so, we'll need to make sure you have a Google My Business (GMB) – more on that in the next section.
We've gone over what local SEO is, why it's important, and what factors influence it the most. Before we talk about how you're going to boost your rankings, it's essential that we get a few things squared away:
To see the full benefits of local SEO, your website must be optimized for mobile. Go back and check those 16 stats we linked – many of them are linked to mobile searches. In fact, over 50% of searches happen on mobile devices.
That makes a lot of sense. How often have you been out on the road looking for a bite to eat? You know your neighbourhood well, so you're most likely going to be searching for things near you if you're in an area you don't know well – in other words, if you're not near a computer.
Not sure if your website is mobile-friendly? Take this test (thanks, Google).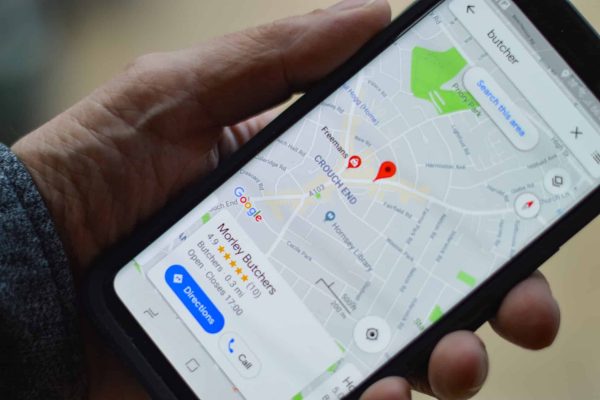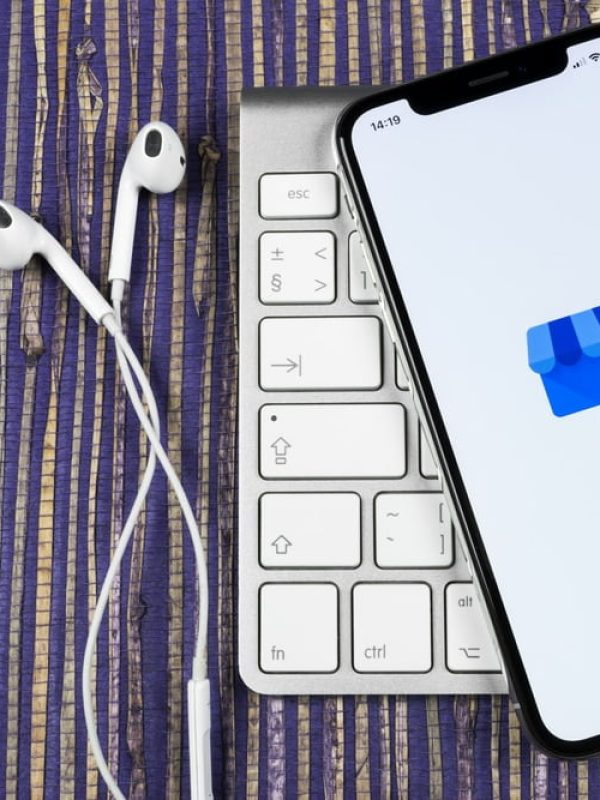 Google My Business/Bing Places/Apple Maps Connect
Remember the 3-Packs we were talking about earlier? They pull information from Google My Business (GMB). GMB is essentially the listing Google has of your business, complete with photos, hours of operation, phone number, address, and more. Bing Places is Bing's equivalent, and Apple Maps Connect is Apple's.
You want to set up or manage your listing with all three. You may already have a listing with each company, in which case all you'll need to do is claim your listing. To set up or claim your listing, follow these links:
You need a physical address. If you work from home, use that. Don't use virtual office addresses.

Choose the business category that best represents your business. Not sure what that is? Look at the category your competitors have chosen, and use that one.

You're going to want keywords in your business description and in your GMB posts (more on those later). In the next section, we'll go over how to find keywords, but don't engage in keyword stuffing (the unnatural overuse of keywords to try to "trick" Google).

Google My Business allows for microblogging through a system called Posts on Google. There's some pretty strong evidence that using Posts on Google can boost your ranking for 3-Packs, so play around with it, post brief updates, and let your clients know about sales, deals and the like.

Make sure your hours of operation, phone number, address, and location are always up to date (you'll get more info in the "Citation Needed" section).
Location, Location, Location
Are you reading all of this and thinking: "Hey, I do business all over the world, I don't need local SEO"?
Wrong.

When people are searching for businesses, they are so often looking for local results that search engines automatically put in a local modifier. For a comparison, let's search for "coffee shop" – once using my real IP address, and another time with a Parisian IP address (exotic, I know) thanks to my handy dandy VPN.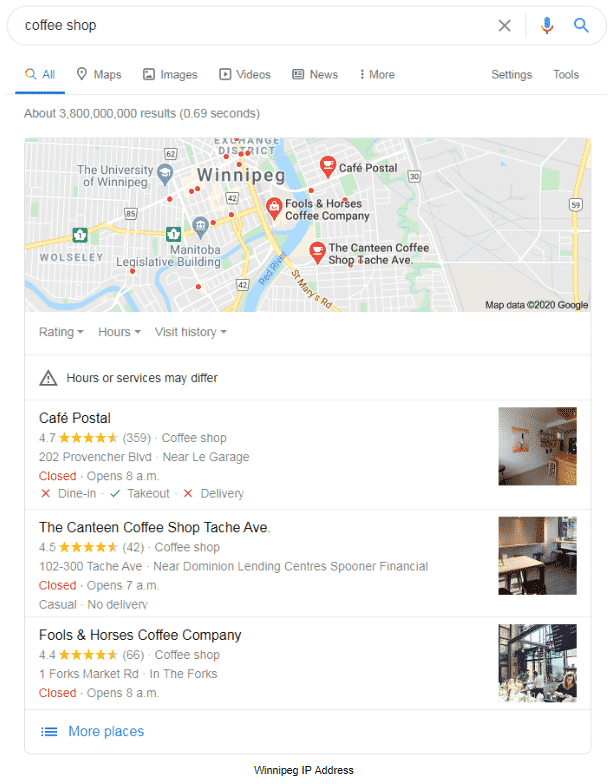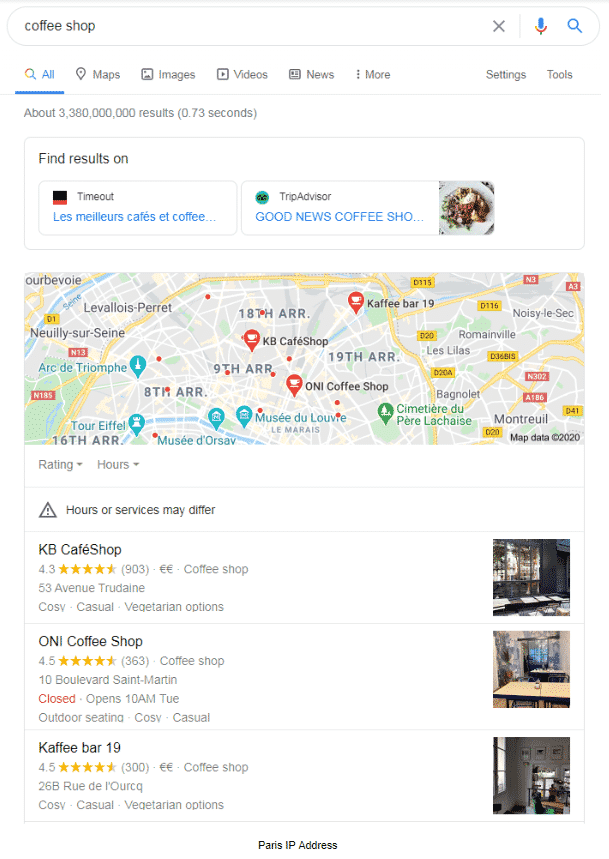 As you can see, the results are very different. That's going to be more or less true no matter what your industry is. Search engines work on a bit of a positive feedback loop; if people click on your website and interact with your company, you'll get closer to the top rank, which means more people will click on your site. 
One of the easiest ways of making your site rank locally is to build what are known as location pages. These can be pages that target neighbourhoods and/or nearby municipalities. Let's say you're located in Winnipeg, and you offer services to nearby areas or towns. Your location pages might be formatted like:
yourcompany.ca/weststpaul
yourcompany.ca/headingly
yourcompany.ca/stboniface
…and so on. These location pages should contain information that's both relevant to the location in question and to your industry; more on that in the "On-Page SEO" section.
Every organic click is a boon. Optimize locally. We're about to show you how.
You probably already know that search engines rely on keywords. Think about it like this: Let's say you own a steakhouse – let's call it the Steak & Grape.
Get a spreadsheet ready; we're delving into keyword research. How you'll organize this spreadsheet will depend on your industry. Categories like "keyword", "intent", "content type"  "competition" and "search volume" will all come in handy.
You're definitely going to want to come up anytime someone searches for "steakhouse". If Googling "Steak & Grape" doesn't bring your restaurant to the first page, you're in trouble. You'll probably also want to come up when people search for "restaurant", "steak", "fine dining", and other similar terms. 
But which terms, exactly? Keyword research is going to help you find out.

Once we've got a list of keywords, we're going to integrate them into our content naturally, so that you'll be at the top for relevant searches.
Search engines are smart – in a manner of speaking. Their ability to process and understand language has improved over time. Google understands that if you're searching for filet mignon, Wagyu beef, or porterhouse, you're looking for steak – probably a steak restaurant. In the same vein, if your content has those terms, Google will understand that you're probably a steakhouse (or a butcher – but that's why you chose the right category in Google My Business, and why your content is optimized – more on that later).
We're going to discuss several free and paid tools later, but for semantically-related terms, brainstorming can be incredibly effective. Write down all of the terms you can think of related to our steakhouse, and you'll get a great starting point.

You can also use Google Ads free keyword planner. When we input the word "steak", we get a list like this: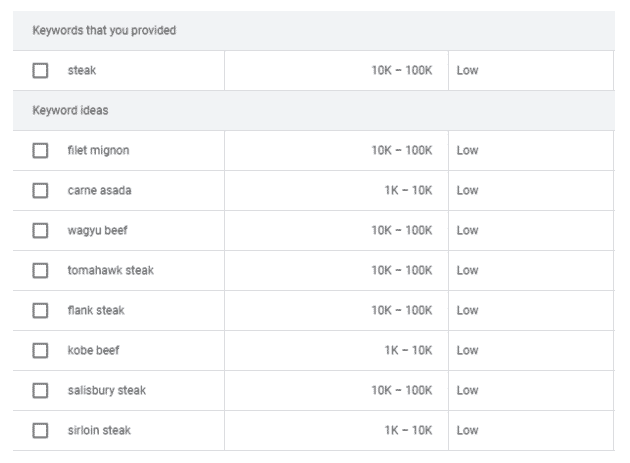 Obviously, some of these are relevant to our steakhouse, and others aren't. Simply ignore irrelevant terms.
Search engines aren't just concerned with what people are searching for – they want to know why they're searching for those terms. After all, search engines are a service, and their primary goal is feeding people the results they actually want. 
Search intent can be divided into four broad categories:
Informational intent. Quite simply, these are searches for information. They'll often contain terms like who/what/where/why/how, guide, tutorial, tips, and learn.
Navigational intent. These are used when a user

knows

where they want to go, but punching the answer into a search engine is easier than typing. Think searching "Insta" instead of "Instagram". These searches are usually for brand/website names or their abbreviations; "Steak & Grape" would be our navigational search term.

Transactional intent. These are searches by people who are deep in the sales funnel and want to buy. They contain terms like "Buy, discount, coupon, free".
Commercial investigation intent. These people aren't as deep in the sales funnel – they want to know more. Terms include "comparison, best, cheapest, review". 
We're thinking locally, so we're going to focus our intents on Winnipeg (and Manitoba) for Steak & Grape. It's important to note that search intents are good to keep in mind for non-local SEO, too.
We might see searches like:
Steakhouse in Winnipeg (could be transactional, could be commercial investigation)

How much beef does Manitoba produce? (Informational)

Steak & Grape (Navigational)

Best steakhouse in Winnipeg (Commercial investigation)
Once you've got an idea of what kinds of searches people are making and why, it's important to look at the content Google is providing in response to the queries. When we look up "Steakhouse in Winnipeg", we get this: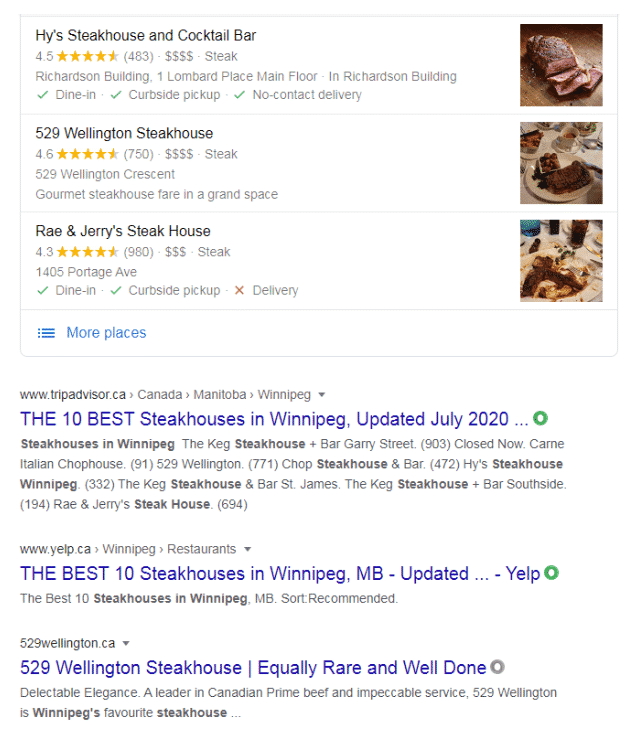 Seems like when most people are looking up "Steakhouse in Winnipeg", they're doing a commercial intent search – look at all of those "Best" listicles!  Note that the notorious 3-Pack shows up – that means even a commercial intent search can turn transactional. 
Now let's look up "How much beef does Manitoba produce":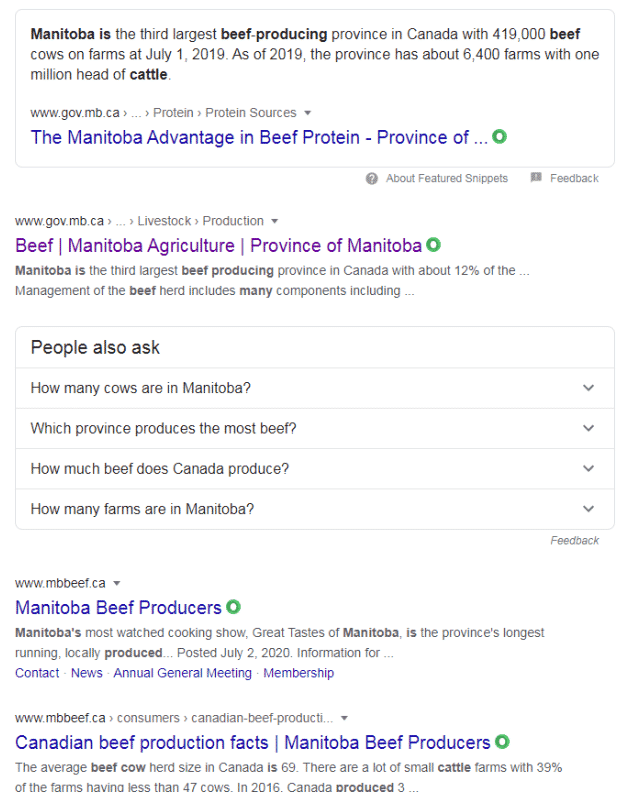 Here, we see a "Featured Snippet" at the top – a common result when Google is trying to answer an informational query. After that, we see a number of informational articles.
How is all of this relevant? In short, it's going to guide the kinds of content that we create in response to searcher's intents. Sometimes, we'll make content pages. Sometimes, we'll make videos. Sometimes, we'll make blog posts. Each of those will be tailor-made to match intent – we'll dive into all of that during the "On-Page SEO" section.
Service-in-Locations (SILs)
You might have noticed that our transactional and commercial intent queries had a format to them: X in Y (in this case, steakhouse in Winnipeg and best steakhouse in Winnipeg). We might also have searched for:
Fine dining near me

Late-night restaurants in Winnipeg

Romantic restaurants near St. Boniface
This "X in Y" format is known as Service-in-Location, or SiL. You want to try to find as many SiLs as you can – just make sure you're not going too far off on a limb. For example, for Steak & Grape, we wouldn't want to target "butcher in Winnipeg" (unless we're also operating a butchery), nor would we want to target "steakhouse in Fargo" (they're too far away to matter).
There are a few other handy ways of coming up with great keywords. They include:
Google Autocomplete. When I type "fine dining winnipeg" into Google, Autocomplete gives me results like "best fine dining winnipeg", "casual fine dining winnipeg", and  "vegan fine dining winnipeg".

For other business types, Kijiji can be a wonderful research tool. When I look up "maid", I get results that include terms like "house cleaning", "housekeeping", and "residential cleaner".

Look at what your competition is doing. When I look up "529 Wellington" (a popular steakhouse here in Winnipeg), I see terms like "upscale", "refined", and "impeccable" – all semantically related to "fine dining". We might not focus on these terms as keywords, but including them in our content could be a good idea, and it tells us that "fine dining" is an important key phrase for our competition.
There are a number of free and paid keyword research tools that you can use to find more keywords. Free ones include the aforementioned Google keyword planner. You can also try Higher Visibility's keyword generator. Also: Wordtracker, Wordstream and ahrefs keyword generator.
You'll notice that many keyword generators have fields indicating search volume and competition. These terms are more or less self-explanatory, but it's worth considering what they mean for your keyword research.
Basically, you want to find keywords with high search volume and low competition. When competition is too high, you may find it difficult to get on the first page of search results. When search volume is too low, you might rank very highly for the terms, but you won't get a lot of searches, so you might not actually increase your customer base.
For our purposes, we're going to want to focus on keywords containing "Winnipeg" or nearby locations/neighbourhoods – after all, we're trying to rank locally.
Seed Keywords is another creative (and fun!) way of finding new keywords. For our purposes, we created the following scenario: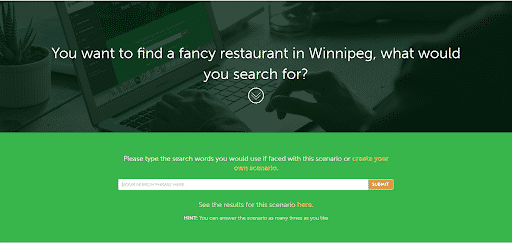 You send that to your friends, they tell you what they would search for, and you suddenly have a
very
organically-sourced list of keywords. Do it for as many scenarios as you'd like! 
There are also a number of paid keyword research tools, many of which allow you to stack up your website against competitors in your industry. These tools even allow you to
find
who you're competing with, which is useful for all kinds of non-SEO analysis. 
SpyFu
,
BuzzSumo
,
SEMRush
and many other tools give you the ability to analyze exactly who your competitors are, what keywords they're focusing on, how well they're ranking for these keywords, and more.
Technically
, you could get all of that information yourself, but it would take you hours and hours of work
per competitor
. 
Outsourcing drudgery can be very profitable sometimes.
Leverage Google Auto-fill
Google likes to try and guess what you're going to search for. Do you ever notice when you type something into Google, you get an auto-fill box. Google isn't just making these suggestions on a whim. The reason Google is picking these terms are simple, people are searching for them! Google is basically doing the keyword research for you!
So how do you leverage this?
Example: If I were a criminal lawyer in Winnipeg, I would start by typing in my main keyword into Google: "winnipeg criminal lawyer"
Then add a space followed by the letter "a".
Go through the entire alphabet one letter at a time and enjoy your new keywords.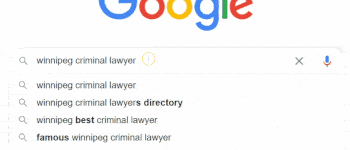 When we got to the letter "d" we discovered the keyword "winnipeg criminal lawyers directory"
In order to leverage this keyword, one might create a page where there is a full list of the lawyers at the firm. Then include the keyword on the page.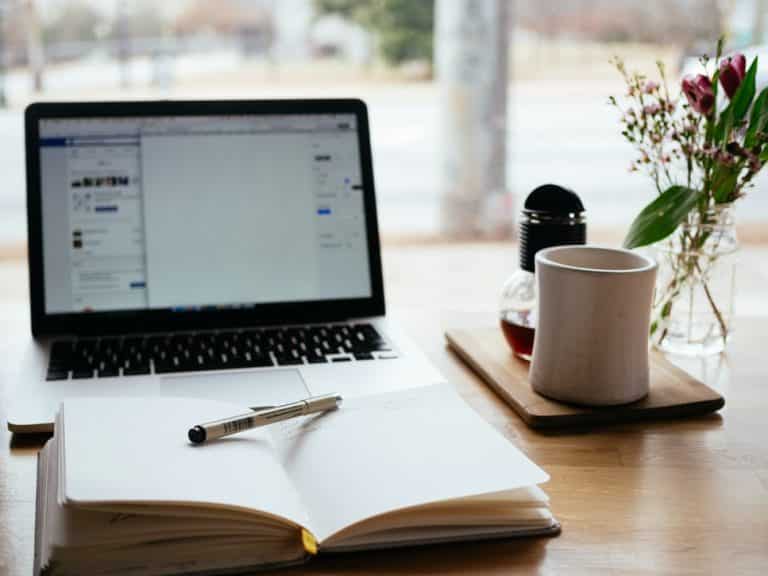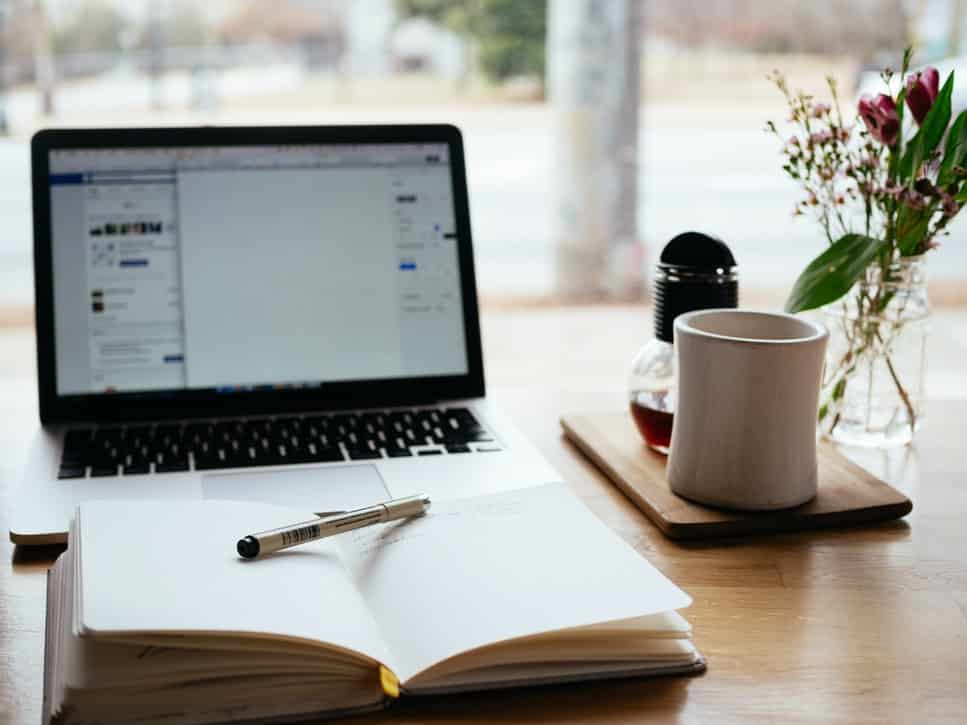 You're probably itching to use all of the keywords that you just generated; hopefully, you've saved them all in that spreadsheet. 
Before we get to the content, though, one last thing: citations.
We're not talking about a police summons for traffic violations or proper APA sourcing. We're talking about your name, address, and phone number. 
On-page SEO is an incredibly deep topic. We're going to focus on improving on-page SEO for local searches, but many of the practices we discuss here are great for SEO in general. Remember, when you're boosting your local SEO, you're boosting all of your SEO.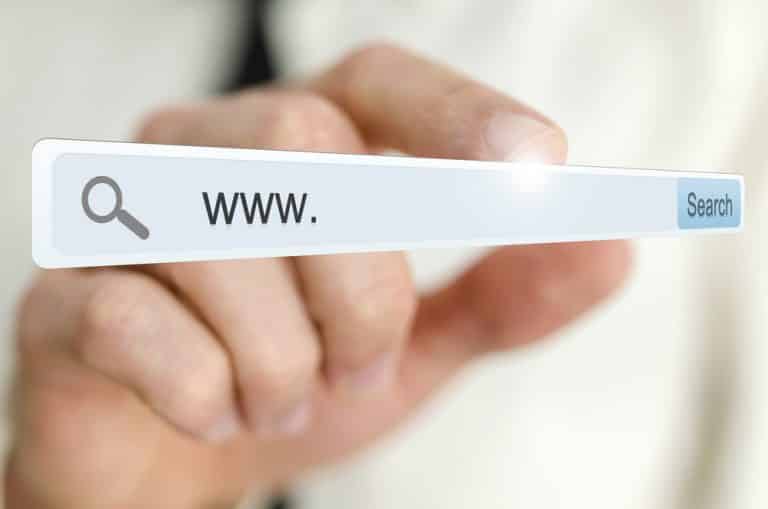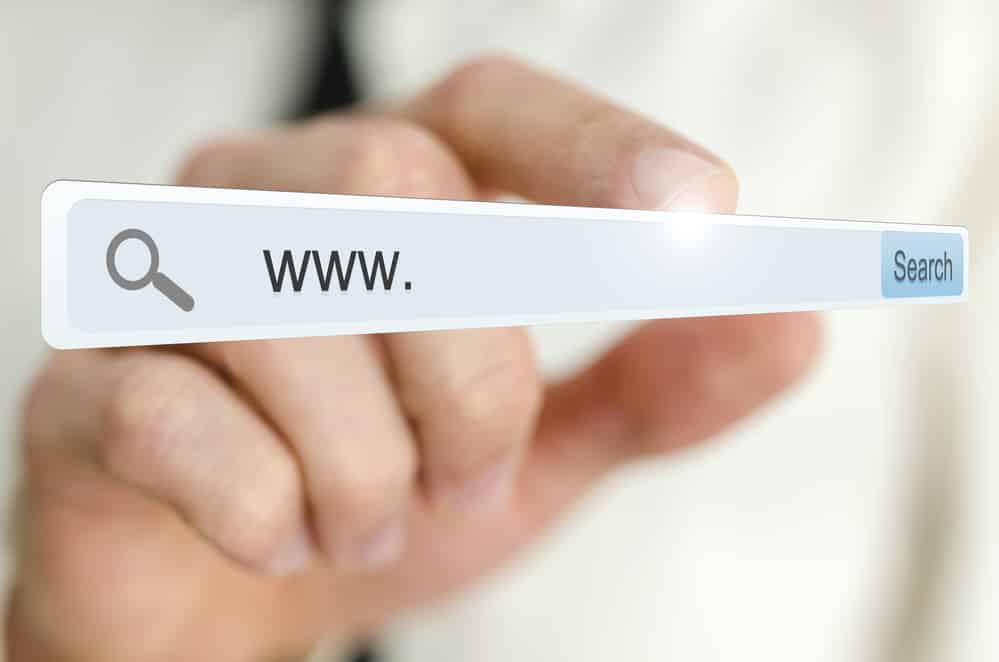 We just spent time and/or money building several NAP citations – it would be an absolute shame if they weren't on your homepage. In your page's footer, you need an NAP citation.
 Think about how many times you've scrolled to the bottom of a page looking for that info. Think about how frustrating it is when you don't find it. Don't be that company.
 You'll also want to include a brief description of your business. For Steak & Grape, it could be as simple as "Serving high-quality steaks and incredible wine to Winnipeg and the surrounding area since 2020". (Not the best copy I've ever written, but I think it gets the idea across).
 Here is an example from our website, of a proper formatted footer, complete with NAP.

         Business Description                                                                                     NAP
 The primary area you serve and a brief business descriptor must be mentioned on your homepage – preferably, you'll have it in an H1 and/or title tag. Remember, most local searches are focused on SiL inquiries – if you're a steakhouse in Winnipeg, you want to make it obvious. You'll also want that SiL information in your site's meta description; here's a simple guide for meta description optimization. 
Have more than one location? Don't worry. Focus on your primary service area for your homepage, and we'll tackle other locations in location page optimization. 
There are a few other handy things to have on your homepage. A map is a great idea so people can actually find our steakhouse: Here's a simple guide on how to embed your Google Maps location on your homepage. 
Many businesses also benefit from having reviews/testimonials displayed on their homepage. We're going to do a deep dive on that in the Reviews section, so for now just make sure you leave enough space for them!
Optimizing Location Pages
We discussed the format your location page URLs should have above. As a reminder, it should look something like:
yourcompany.ca/location1
yourcompany.ca/location2
yourcompany.ca/location3
Each of those location pages should follow the rules we described for the homepage, but instead, replace your primary location with the location the page was specifically built for. For example, Steak & Grape's primary location is Winnipeg, but we might build a location page for East St. Paul. In that case, our title, H1, and meta descriptions would have East St. Paul as the location.
Remember when we talked about semantics? They're pretty important for location pages, because you need to let search engines know that you're really present in the locations you're serving. Referring to key landmarks, events, and history in the area can be good ways of signalling to search engines that you have a real presence in a given area.
You might have multiple physical offices – that means you'll have multiple relevant NAPs, each of which you should include on their respective location pages. You'll also want hours of operation and the appropriate Google Maps location embedded for each page.
These optimization tips won't just be good for your local SEO – they're good for SEO in general.
First, let's take a speed test. Google wants your website to load quickly, so they provide a speed audit called PageSpeed Insights. Run one on your site now and see how well you do. You'll see an aggregate score, an option to switch between mobile and desktop, and a list of recommendations. 
We're not going to dive into how to execute on these recommendations here – it's a bit out of scope for this article. Ask your web developer – they'll know what to do.
The faster your website loads, the higher it will rank.
Search engines are going to crawl your website in order to index pages, making your site more easily searchable. There are pages that you'll want to exclude from searches (staging sites and other pages meant for internal use), and pages that you'd very much like search engines to find.
Robots.txt is your friend here – our focus is on local SEO, but you can find more info on how to make a robots.txt file here.
Below is a generic robots.txt template. You'll notice a sitemap line at the bottom. In order to know this url, we will need to generate a sitemap.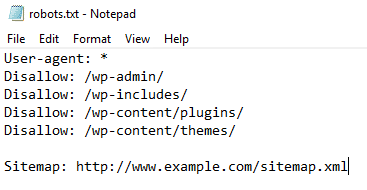 Your URLs should also be structured in a particular way. Your location pages should link back to your main page, and content pages you make (like blogs) should do the same. This makes your site more easily navigable by both search engines and people.
Keep your URLs short and sweet! When other people link to your site, they'll probably use keywords found in a particular page's title, so keep the URL related to that title. No reason to complicate things with random strings of numbers and letters!
You'll be linking back to your homepage on most of the content you create – make sure the links you use tie in with keywords you're trying to rank for.
No, I'm not calling you names – though having the title "The Schema" might be a cool wrestling moniker. I digress.
Schema is one of those things that can seem difficult, but is actually pretty simple when you break it down. In short, it's little snippets of code that you can use to categorize certain elements of your website. 
Back in the day, you'd need coding knowledge to get schema right. Fortunately, Google has come to the rescue once again. Let's visit their Structured Data Markup Helper. Steak & Grape doesn't exist, so we'll use First Rank as our example site. We're a local business, so we'll press that button, type in our URL, and hit "Start Tagging".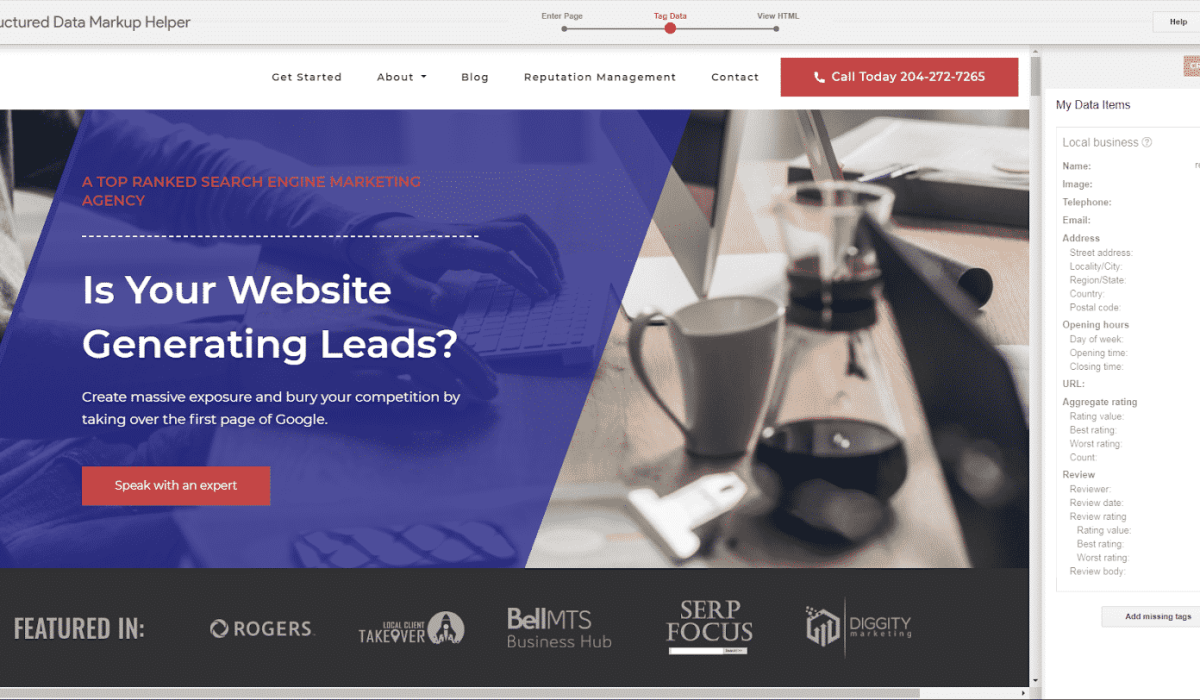 Wow, it's our website, but with a handy dandy way of creating schema! Let's add some missing tags. For example, we can scroll to the bottom of our page, find our phone number, and add the "Telephone" tag. We can do the same with our name and address – hey, that's an NAP citation! When we're done, our sidebar looks like this:

The "Add missing tags" button can be pressed if there's a schema you'd like to add that isn't standard in the markup helper. When we click "Create HTML", we get this: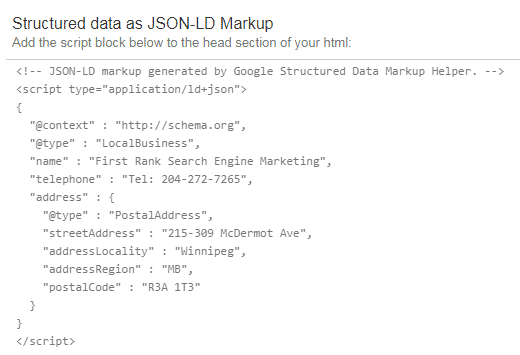 You literally just need to copy and paste that into the head section of your page's HTML, and you've created a schema. It's that simple, and it will make your site that much easier for search engines to navigate and understand.
You'll need to do this for every location page, and you want to make sure your schema matches up with the info listed on GMB – consistent NAP citations! Gotta have them.
Want to make sure your schema is working properly? Google's Rich Results Test can check it for you. What's more, the test gives us some insight as to why schema is so important – Google uses it to identify pieces of your site that might be used for things like the Carousel and other rich results. These results often stand out from the field of blue links, so they're a huge boon when you're trying to increase traffic. There is a lot more to the technical side of things than just this. For a more in-depth look, view our full Technical SEO Guide.
Get your brainstorming hat on, get your keywords ready, and get yourself into a creative mindset – we're making content.
Relevant, informative, enjoyable content is the cornerstone of great local SEO. We've talked a bit about SiL already – your content should have a similar format to boost your ranking for local searches. How do you make SiL content? Simple – make content that's relevant to both your location and your industry.
Let's think about Steak & Grape. Our made-up business is in Winnipeg, and our industry is fine dining – specifically, steak and wine. We might then brainstorm ideas like:
Wines Made in Manitoba (could be a listicle, could be reviews)

Why Manitoba Beef Tastes Better

Best Late-Night Outings in Winnipeg

Date Ideas in Winnipeg
These are just ideas of what people might search for that's both relevant to our niche and our location. That's not a bad way to start, but it might be interesting if we could figure out exactly what kinds of questions people are looking for answers to. That way, we can direct informational/commercial intent queries to our site, and convert those intents into paying customers. 
We can use tools like SEMRush's Keyword Magic, AnswerThePublic (a question generator that scours search engines for commonly asked questions), or Moz's Keyword Explorer. With those tools, you might find a lot of great industry or location-related searches, but industry and location-related searches might be more difficult. 
Another useful tool is Google Trends. When we look up "Wine Manitoba", we can see that the peak was in December. We see the peak is 100 – that number just means it's at 100% popularity. The other peaks and valleys are jumps and dips in search popularity.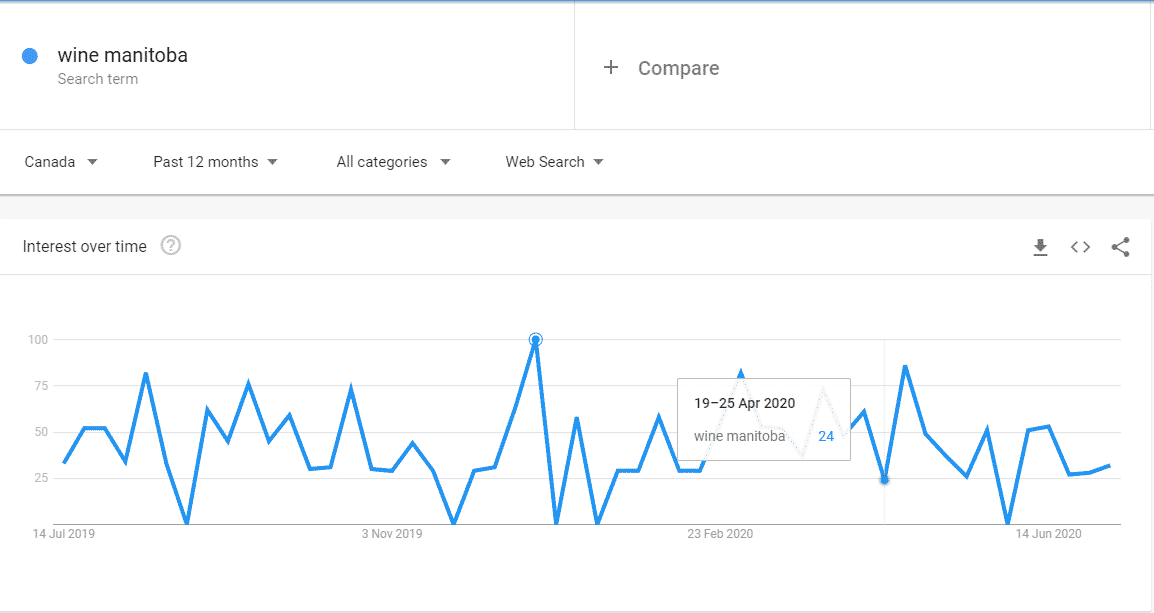 You'll note that we can compare with other terms. Let's compare with wine winnipeg, date night winnipeg, and steak winnipeg: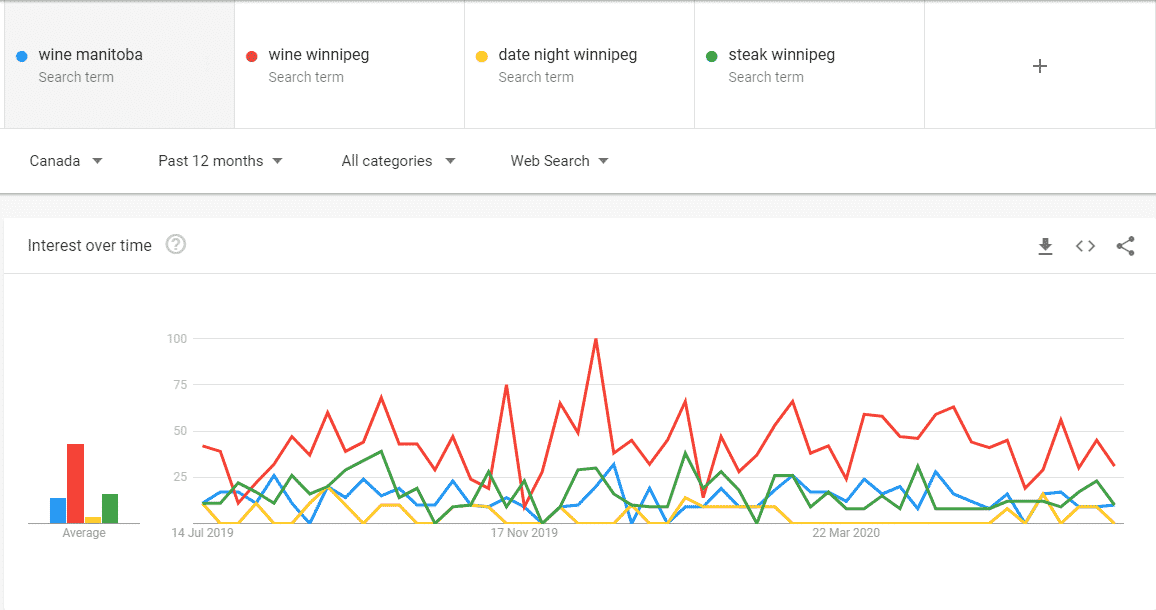 Wow! We can see that searches for wine peak in December – right around the holidays. We can see that "date night" completely drops off from March until late May – right when the province was shut down because of COVID-19.

These analytics don't give us the full story, though. We can compare popularity, but we don't know how many people are searching for the terms, or what their search intents are. To do that, we're going to have to delve a bit deeper.
When you've decided on some keywords that you'd like your content to revolve around, and some questions you want to answer, take the time to search for those keywords and questions. We discussed search intent above – now it's time to match our content to intent.
 When we look up "wine winnipeg", we immediately get GMB results and a list of stores that sell wine. That tells us that people searching the term generally have transactional intent, so it may not be best to optimize informational content for the term. Conversely, when we look up "date night winnipeg", we get the following results:
A Featured Snippet, a blog post, and a listicle – that's an informational query, and one we can benefit from making a blog post for. You might see all kinds of different results depending on the keywords and queries you use; videos, infographics, and other forms of media are common. Optimize your content for what's showing up on the search engine results page (SERP) – remember that for rich results, you have to have proper schema in place.
Going back to our Google Trends searches, you'll notice that the graphs fluctuate a lot as the months go on. SEO is constantly changing because what people are looking for is always changing. Any good SEO company was doing COVID-related updates in 2020, whether they were doing local or generic SEO.
You've got to make content that people are actively searching for.
That means you need to be:
Constantly monitoring trends, and
Constantly creating quality content
Optimally, you should be updating your blog weekly. That doesn't mean you should be making content that just spams keywords – your content needs to be high-quality.
You may find that exact keyword matches for SiL-related terms are not all that common, especially if you operate in an area that isn't densely populated. Trying to force articles to fit that format doesn't necessarily make for quality content.
That doesn't mean you can't include SiL content in posts that aren't explicitly about SiL. Let's say we decide to do a post about the best cut of beef for Steak & Grape. 
We might start it with a line like: "In Winnipeg, we love a good deal. We're often a test market for brands because they know Winnipeggers love quality and affordability. What makes a cut of beef the "best" varies from person to person – we're going to rank cuts based on affordability and quality, so you can decide what's worth it for you".
Boom! We've localized an article that can, from here on out, contain information about beef cuts that aren't location-specific – though if we wanted to, we could find a way to tie it back to the local beef producers we source from.
Back in the old days of SEO, people engaged in a practice called "keyword stuffing" – you can probably guess what that means. Those days are over.
Search engines have improved dramatically over the years. That means they can tell when:
Your content isn't original

You're trying to "game" search engines

Your content is low-quality (more on how they know in the next section)
When you're writing content, don't worry about keywords (except, as mentioned, in title, H1, meta descriptions, and links). Even in your title/etc, you don't need to worry about exact keywords – remember, search engines are getting very good at understanding semantic relations.
Google has recently released it's Natural Language API, which can give you a pretty good idea of just how good Google is at understanding semantic relations.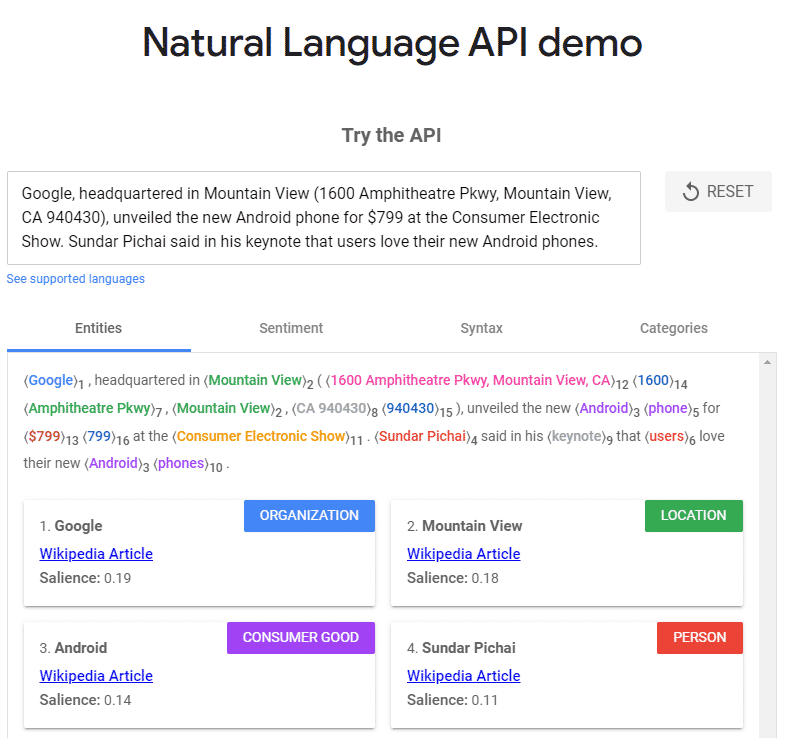 In this example you can see how Google is able to correctly identify that Android is a consumer good.
Create content that you genuinely think is going to help people. At no point in writing this article did I say to myself "Hey, I better use the term local SEO a lot because I want this article to rank!". I knew that the term would come up a lot naturally, along with many associated words. Not because I'm trying to game the system, but because I want you to know how local SEO works, and these terms come up naturally when you're creating a comprehensive guide.
In other words, when the goal of your content is to answer questions and inform people, everything will fall into place. Create the best content you can, and leave other concerns by the wayside.
I know what you're thinking.
"How am I going to do SEO on pages that aren't mine? Why would I even want to do that? I really hope this writer isn't going to tell me to convince other people to add my schema to their website…"
Take a breath; we're going to do something much more interesting. We're going to make content for other people.
Why?
So they'll link to our page.
We've gone over a number of ways you can teach search engines about your website, your location, and your industry. But here's the million dollar question:
How can you teach them that you're any good?
Seriously. A website can't eat our steaks, it can't drink our wine, and it can't appreciate all the good jokes we've littered throughout our content. For all their amazing abilities, search engines are, well, kind of dumb.
Reviews are one way that a search engine can tell if you're worth your weight, and we'll tackle those in the next section. Another method they use is something Google's founders borrowed from academia.
It's called authority.
When you're looking at academic papers, one of the easiest ways to tell whether or not a paper is "good" is by looking at how many other papers cite it. Search engines use this same concept – when other sites link to your pages, it's a signal that your content is worthwhile.
The concept goes a little further. When sites with high authority link to your pages, it gives you an extra boost – kind of like if a well-respected professor cited your article.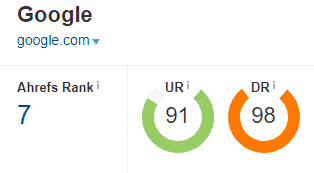 Analyzing google.com using ahrefs
Keep in mind that you don't need to have the highest authority on the planet – you just need higher authority than your competitors. Use the links above to check your authority, your competitor's authority, and the authority of sites you want links from (more on that later).
One excellent way of getting links is to create an invaluable resource for people, and then, post it on the web. Our "date night Winnipeg" article could be made into a comprehensive listicle – easily shared on Facebook and other social media. There are two great ways of creating high-quality content others want to link to:
Find a subject that people are searching for, but no one has created a resource for

Find an existing resource and

do it better
This content can be industry-specific, location-specific, or both. That's why "50 Winnipeg Date Ideas" might be an excellent resource for Steak & Grape to build – it is industry and location-relevant. Remember to match your content to search intent.
Once your resource is ready, share it – on Instagram, on Facebook, or on any other social media platforms you have running. You can also share it in Facebook groups, but don't get too spammy with it, and make sure they're okay with that kind of posting. Try to participate in those groups outside of self-promotion efforts; you'll be  better-received.
Posting your content on Facebook is fine and dandy, but there's a problem. You might get links, but they might only be from Facebook posts. You can sit and wait around until a local news station finds your content and decides to post it, but that's a bit passive. Let's go back to Moz's local search ranking factors: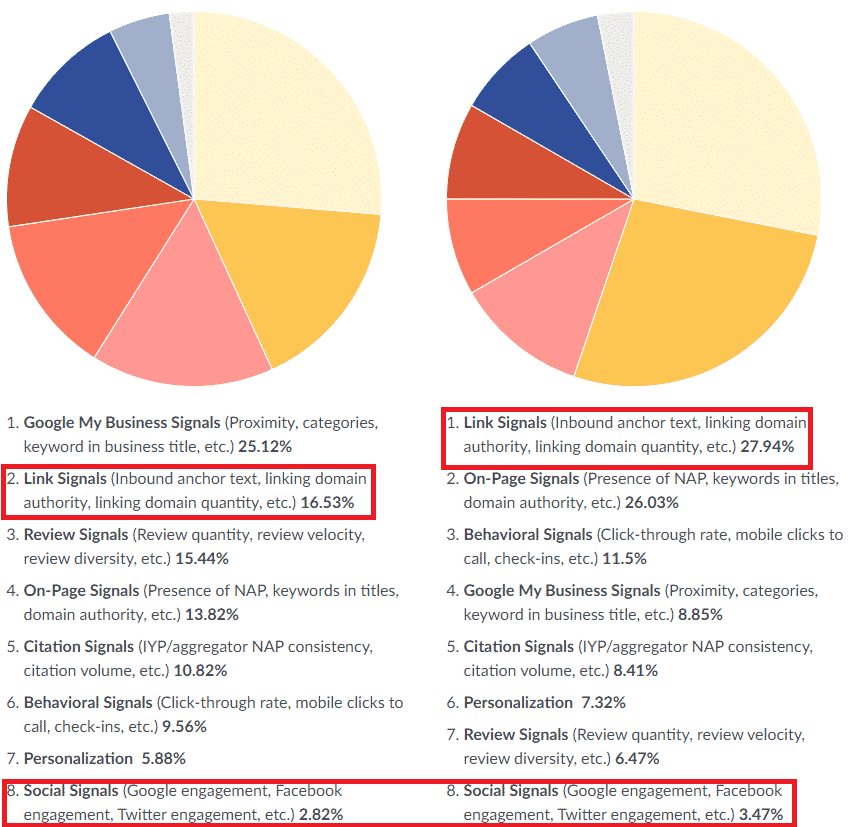 Note that social signals are not very important, while link signals are incredibly important. We need to be linked by high authority sites. Let's get proactive:
Guest posting is one of the more common types of content for others. The concept is simple: you find people who want content, you make content for them, and you link back to your own site (this is called backlinking) in that content. Some sites will allow backlinks in their guest posts, while others will ask you to pay them for backlinks – that's how valuable high authority links are. 
You should avoid that second type of backlink, though. Google does not like paid links. 
The real path to great backlinks is to find blogs and websites that want high-quality content, and to create it for them. These blogs and sites will need to be local and/or industry-related, and they should optimally have high authority. 
Finding sites to guest post to can take a bit of work, but there's more than one way to do this:
First, we can try using some good old Google operators. In this case, we want to use the "intitle:" operator, which restricts our results to pages which have a particular term in their title. Examples include:
"intitle:write for us"
"intitle:guest post"
"intitle:blog for us"
…and so on. We can narrow that down by including industry or location-specific terms, like so:
"winnipeg intitle:write for us" 
"steak intitle:guest post"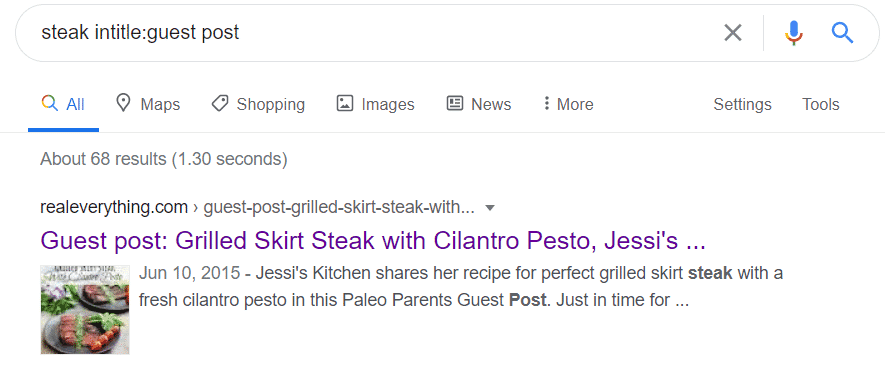 You can also drop the intitle operator, though we find it pretty useful.
Getting creative with how you find guest posting opportunities is the way to find success in unexpected places. Network! Go to industry events and find people who want blog posts. Talk to your friends who have blogs and volunteer to post. Just make sure you don't go overboard with tit-for-tat guest posting – Google doesn't like that, either.
Want even more guest posting opportunities? Moz has a great list of 15 ways to find 'em. 
Now that you have your opportunities lined up, you don't want to flub them! Pouring your heart and soul into an article just to have it rejected is a painful proposition (trust me, I know).
Most people who accept guest posts have guidelines about how you should go about creating your post. Follow those guidelines. You should also read other posts on their site to get a sense of their writing style, and try to emulate it – leaving in some personal touches is okay, but not too many.
Ready to learn a hyper-advanced SEO guest posting technique? Prepare yourself…
The skyscraper technique is simple, but powerful. First, you find content that has a lot of backlinks. Then, you make a better version of that content. Finally, you get in touch with all the people that linked to the original article and ask them to link to yours.
Simple, yes, but it's going to take some effort.
First, you have to find content that's rich in backlinks. There are several paid SEO tools that can help you do this, like ahrefs Site Explorer, but if you're trying to keep things free-to-play you're going to have to do your own research.
Look for articles that are getting shared in your industry and location – it's important to be actively checking competitors' websites, social media groups, and forums to find these articles. When you see one that looks well-made/interesting/like it's being shared a lot, use this free tool to check backlinks (ahrefs coming through once again – I love them!).
When you find an article with a lot of backlinks, your goal is to make a better version. It can't just be a bit better, either – it's got to be much, much better. After all, you're convincing total strangers to link to you!
How do you make better content? There's no simple answer. Check if the old content is out of date – update it. Make more compelling visuals. Write with wit and humour. You can also go with the namesake technique, and add floors – if it's a 25 point listicle, make 50 points. Bigger isn't always better, but it's often more impressive at a glance.
Now all you have to do is contact the people who linked to the original article, send them your article, tell them why it's better, and ask them to link to your article instead.

Reputation management is incredibly important for local SEO – and for getting business in general. When a company has a less than 3-star review, how often do you go to them?
Not that often, I'd bet. Don't worry – I'm the same way. Honestly, I'm a 4+ star person myself.
Review signals are the 3rd most important ranking factor for 3-Packs. They can be divided into categories including diversity, velocity, and quantity. The degree to which better reviews affect your chances of getting into the 3-Pack is up for debate, but do you even want the 3-Pack to come up if you're getting a bunch of 1-star reviews? Probably not.
Reviews are one of those things that can be easily automated. Want more reviews? Get a program that actively asks your clients to review you, through text and/or email. Better yet, get a program that does so, then asks your client to post the review on Google if it's positive, while sending you the feedback if it's negative. First Rank Reviews does just that.
You can, of course, go the manual route too. Even with review software, some amount of manual reputation management is necessary. Check your reviews constantly. Thank customers for good feedback and tell customers to contact you when feedback is bad. People love it when they have a problem and you provide a solution. You can turn a 1-star review into a 5-star review by going above and beyond.
Encouraging customers to leave a review is quite easy – just ask them for one. Most people are more than happy to oblige.
Once you've got several positive reviews, you'll want to display them proudly on your website. There are numerous widgets available online that allow you to embed Google reviews, but you may be better-served by snipping your overall review score and some choice written reviews that talk up your business.
Social listening tools are great for understanding what people are saying about your business. Here's a list of 10, many of which follow a freemium model. Understanding how people are reacting to your business can give you insight about the kinds of reviews you're getting.
One important insight? Whether or not you're getting targeted by fake reviews. When no one is saying anything bad about you online but you suddenly find your review score tanking, it's possible someone has taken a decidedly black hat approach. 
How do you fight fake reviews? Use the Twitter Google My Business Support Team. When you spot a suspected fake review (they'll often only have one review, or one review and one or two obviously fake reviews), contact the team and let them know. They can often get it removed.
You made it to the end, and at this point, you're basically a local SEO master. Seriously. If you just follow all of the advice we laid out, you know more and are doing more than most companies, on the planet, for your local SEO. 
One last thing before you go: remember that SEO is a continuously evolving discipline. You can keep learning more, and if you made it this far, we know you're hungry for knowledge. Read all of the information on the sites linked in this article. Go to Moz, ahrefs, Hubspot, and devour their content. 
Above all, thanks for reading. Without readers, this is just text in the void. You are appreciated more than you know.
This guide was brought to you by First Rank – A Winnipeg SEO company.